Other Common Name(s):
Other plants called Rosinweed:
Description

Kidney-leaf rosinweed is a native perennial wildflower in the Asteraceae (sunflower) family. It is found throughout North Carolina, through rarer in coastal areas, on sandy soils and dry long leaf pine forests. Plant it in full sun to partial shade in sandy loamy well-drained soil. This perennial has a large taproot and it self seeds easily. Plant it in a wildflower garden or at the back of a border and enjoy its showy yellow flowers from late spring through early fall.

See this plant in the following landscape:
Cultivars / Varieties:

Tags: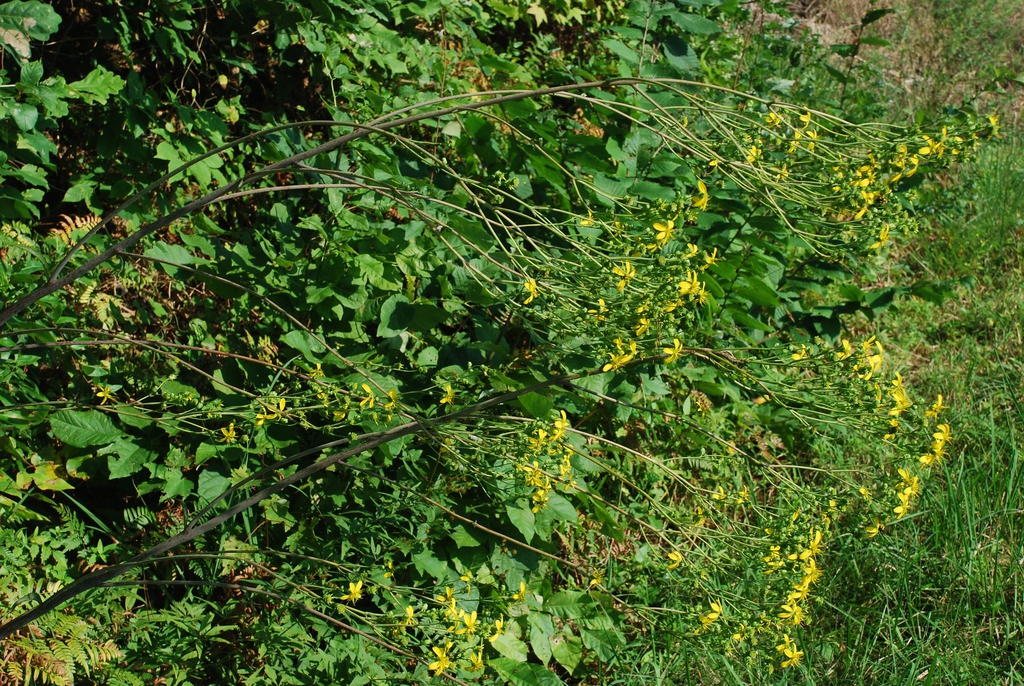 Cultivars / Varieties:

Tags:
Attributes:

Genus:

Silphium

Species:

compositum

Family:

Asteraceae

Life Cycle:

Perennial

Recommended Propagation Strategy:

Seed

Country Or Region Of Origin:

Southeastern U.S.A.

Distribution:

AL, FL , GA, NC , SC, TN , VA, WV
Whole Plant Traits:

Plant Type:

Herbaceous Perennial

Native Plant

Perennial

Wildflower
Cultural Conditions:

Light:

Full sun (6 or more hours of direct sunlight a day)

Partial Shade (Direct sunlight only part of the day, 2-6 hours)

Soil Texture:

Loam (Silt)

Sand

Shallow Rocky

Soil Drainage:

Good Drainage

Occasionally Dry

Available Space To Plant:

Less than 12 inches

12 inches-3 feet

3 feet-6 feet

NC Region:

Coastal

Mountains

Piedmont
Fruit:

Fruit Type:

Achene
Flowers:

Flower Color:

Gold/Yellow

Flower Inflorescence:

Head

Flower Value To Gardener:

Long Bloom Season

Flower Bloom Time:

Spring

Summer

Flower Shape:

Radial

Flower Petals:

7 - 20 petals/rays

Flower Description:

8 petaled yellow flowers with center disc flowers that bloom from May-September appear on leafless stalks that can reach 4 to 8 feet tall. Disc flowers have undivided styles.
Leaves:

Leaf Color:

Green

Leaf Type:

Simple

Leaf Arrangement:

Alternate

Leaf Shape:

Ovate

Reniform

Leaf Margin:

Lobed

Hairs Present:

No

Leaf Length:

> 6 inches

Leaf Description:

Basal leaves are 4"-12" long with lobed margins that vary from ovate to reniform. Toothed leaves can be palmately or pinnately lobed. Midrib can be green or red.
Stem:

Stem Color:

Brown/Copper

Red/Burgundy

Stem Is Aromatic:

No

Stem Description:

Reddish to mottled stems