Quercus bicolor
Common Name(s):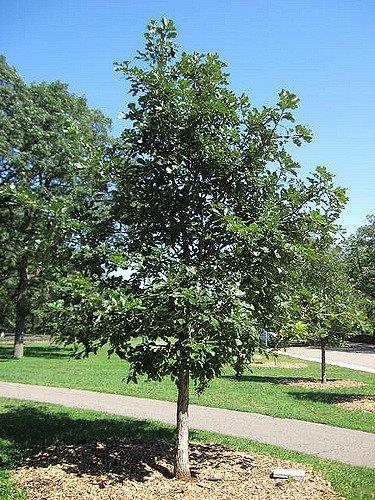 Cultivars / Varieties:

Tags:

#deciduous#shade tree#full sun tolerant#drought tolerant#wildlife plant#native tree#moths#fall interest#street tree#showy fruits#small mammals#food source wildlife#fire low flammability#NC native#deer resistant#acorns#nighttime garden#oak tree#Braham Arboretum#larval host plant#food source fall#food source herbage#wet soils tolerant#bird friendly#food source hard mast fruit#mammals#butterfly friendly#moth larvae#pollinator garden#problem for horses#black walnut toxicity tolerant#Audubon#banded hairstreak butterfly#gray hairstreak butterfly#imperial moth#juvenal's duskywing butterfly#edward's hairstreak butterfly#white-m hairstreak butterfly#horace's duskywing butterfly
Attributes:

Genus:

Quercus

Species:

bicolor

Family:

Fagaceae

Uses (Ethnobotany):

The inner bark was used heavily in the leather tanning industry and it also produced an important yellow dye. Native Americans used it to treat a wide variety of ailments. Native Americans and pioneers used the nuts for food. Roasted acorns have been ground and used as a coffee substitute. The wood is used in furniture but is not as valuable as white oak due to having more knots.

Life Cycle:

Perennial

Woody

Recommended Propagation Strategy:

Seed

Country Or Region Of Origin:

South East Canada to Northern Central & Eastern U.S.A

Distribution:

AL , CT , DC , DE , IA , IL , IN , KY , MA , MD , ME , MI , MN , MO , NC , NH , NJ , NY , OH , PA , RI , SC , TN , VA , VT , WI , WV Canada: ON. Found from Minnesota down into Tennessee and over into North Carolina and South Carolina. It can also be found in New York and up into Canada.

Fire Risk Rating:

low flammability

Wildlife Value:

This tree is mildly resistant to damage by deer. The wildlife value is high. The acorns are eaten by woodpeckers, blue jays, small mammals, wild turkeys, white-tailed deer, and black bears. Oak trees support a wide variety of Lepidopteran. You may see Imperial Moth (Eacles imperialis) larvae which have one brood per season and appear from April-October in the south. Adult Imperial Moths do not feed. Banded Hairstreak (Satyrium calanus), which have one flight from June-August everywhere but Florida where they emerge April-May. Edward's Hairstreak (Satyrium edwardsii), has one flight from May-July in the south and June-July in the north. Gray Hairstreak (Strymon melinus), has three to four flights in the south from February-November and two flights in the north from May-September. White-M Hairstreak (Parrhasius m-album) has three broods in the north from February-October. Horace's Duskywing (Erynnis horatius) has three broods in Texas and the deep south from January-November, and two broods in the north from April-September. Juvenal's Duskywing (Erynnis juvenalis) has one brood from April-June, appearing as early as January in Florida. It attracts a wide range of insects which in turn feed the birds.

Play Value:

Wildlife Cover/Habitat

Wildlife Larval Host

Wildlife Nesting

Edibility:

Acorns (nuts) are edible after tannins are leached or boiled out.

Dimensions:

Height: 50 ft. 0 in. - 90 ft. 0 in.

Width: 30 ft. 0 in. - 100 ft. 0 in.
Whole Plant Traits:

Plant Type:

Edible

Native Plant

Poisonous

Tree

Woody Plant Leaf Characteristics:

Deciduous

Habit/Form:

Open

Rounded

Spreading

Growth Rate:

Medium

Maintenance:

Medium

Texture:

Medium
Cultural Conditions:

Light:

Full sun (6 or more hours of direct sunlight a day)

Partial Shade (Direct sunlight only part of the day, 2-6 hours)

Soil Texture:

Clay

High Organic Matter

Loam (Silt)

Sand

Soil pH:

Acid (<6.0)

Neutral (6.0-8.0)

Soil Drainage:

Good Drainage

Moist

Occasionally Dry

Occasionally Wet

Available Space To Plant:

24-60 feet

more than 60 feet

NC Region:

Coastal

Mountains

Piedmont

USDA Plant Hardiness Zone:

3b, 3a, 4a, 4b, 5b, 5a, 6b, 6a, 7b, 7a, 8b, 8a, 9b, 9a
Fruit:

Fruit Color:

Brown/Copper

Fruit Value To Gardener:

Edible

Display/Harvest Time:

Fall

Fruit Type:

Nut

Fruit Length:

< 1 inch

Fruit Width:

< 1 inch

Fruit Description:

1/2- to 3/4 in. shiny brown acorns are often in groups of 2-4 and have long stalks. The cap encloses 1/3–1/2 of the acorn and has grayish scales and fine hairs. Produces a good crop every 3 to 5 years. Matures in 1 to 2 years. Fruit is available September-October.
Flowers:

Flower Color:

Gold/Yellow

Green

Red/Burgundy

Flower Inflorescence:

Catkin

Insignificant

Flower Bloom Time:

Spring

Flower Description:

Flowers are in drooping, elongated clusters. Male flowers yellow-green, females green to red. Flowers bloom in April.
Leaves:

Woody Plant Leaf Characteristics:

Deciduous

Leaf Color:

Brown/Copper

Gold/Yellow

Green

White

Leaf Feel:

Glossy

Leathery

Velvety

Leaf Value To Gardener:

Showy

Deciduous Leaf Fall Color:

Brown/Copper

Gold/Yellow

Red/Burgundy

Leaf Type:

Simple

Leaf Arrangement:

Alternate

Leaf Shape:

Elliptical

Obovate

Ovate

Leaf Margin:

Crenate

Lobed

Hairs Present:

Yes

Leaf Length:

> 6 inches

Leaf Width:

3-6 inches

Leaf Description:

Leaves are 3-9" long and 2½-6" across. Because it hybridizes easily in the wild, there is variation in leaf shape and winter color. Margins can be moderate to deeply lobed with shallow rounded teeth or toothed in the distal half only. Undersides of the leaves are hairy and lighter green or white, especially on younger leaves, giving it an interesting effect in the wind. Winter color can be brown to yellows or reds. The leaves are broad and ovoid.
Bark:

Bark Color:

Dark Brown

Dark Gray

Light Gray

Surface/Attachment:

Furrowed

Peeling

Ridges

Scaly

Smooth

Bark Plate Shape:

Rectangle

Bark Description:

Depending on the age of the tree the bark can be brown to grey in color. With age, it has a scaly appearance, rough with deep, vertical furrows and horizontal breaks, and may begin to peel. When young, the bark is smooth. The inner bark is yellow-orange and bitter tasting.
Stem:

Stem Color:

Brown/Copper

Gray/Silver

Stem Is Aromatic:

No

Stem Buds:

Hairy

Stem Bud Terminal:

Cluster of terminal buds

Stem Lenticels:

Conspicuous

Stem Description:

Twigs are brown or gray, smooth, and covered with scattered white lenticels.
Landscape:

Landscape Location:

Lawn

Meadow

Naturalized Area

Pond

Landscape Theme:

Butterfly Garden

Edible Garden

Native Garden

Nighttime Garden

Pollinator Garden

Rain Garden

Design Feature:

Shade Tree

Specimen

Attracts:

Butterflies

Moths

Pollinators

Small Mammals

Songbirds

Resistance To Challenges:

Black Walnut

Deer

Drought

Dry Soil

Fire

Poor Soil

Wet Soil

Problems:

Problem for Horses
Poisonous to Humans:

Poison Severity:

Low

Poison Symptoms:

Abdominal pain, constipation then diarrhea (occasionally bloody), depression, frequent urination, discolored urine, jaundice; acorns can obstruct the digestive tract

Poison Toxic Principle:

Gallotannins, quercitrin, and quercitin.

Causes Contact Dermatitis:

No

Poison Part:

Fruits

Leaves