Hylotelephium sieboldii
Common Name(s):
Phonetic Spelling

hy-loh-teh-LEF-ee-um see-BOLD-ee-eye

This plant has low severity poison characteristics.

Description

A short, perennial succulent native to Japan. Formerly included in the genus Sedum.

Grows best in light to moderate shade and well-drained to dry soil. It has good drought tolerance, making it suitable for xeriscaping.

VIDEO Created by Elisabeth Meyer for "Annuals, Perennials, Vines, and Groundcovers" a plant identification course offered in partnership with Longwood Gardens.

Profile Video:

See this plant in the following landscape:
Cultivars / Varieties:

'Nana'

Tags: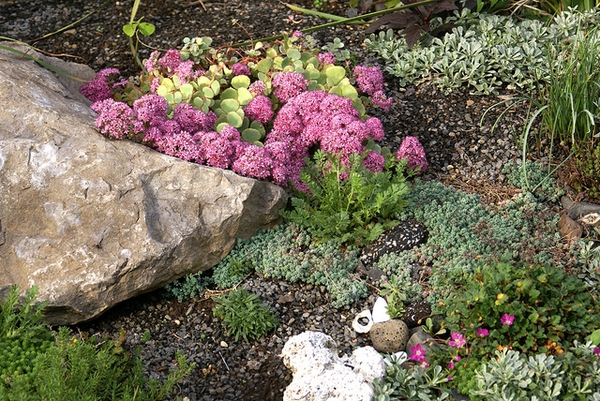 Cultivars / Varieties:

'Nana'

Tags:
Attributes:

Genus:

Hylotelephium

Species:

sieboldii

Family:

Crassulaceae

Life Cycle:

Perennial

Country Or Region Of Origin:

Japan

Play Value:

Attractive Flowers

Attracts Pollinators

Textural

Edibility:

If causes low toxicity if eaten. However, when very young and tender, the stems and leaves can be eaten raw. Later, until they flower, they may be briefly cooked.

Dimensions:

Height: 0 ft. 2 in. - 0 ft. 10 in.

Width: 0 ft. 2 in. - 1 ft. 0 in.
Whole Plant Traits:

Plant Type:

Edible

Ground Cover

Perennial

Habit/Form:

Arching

Mounding

Growth Rate:

Medium

Texture:

Fine
Cultural Conditions:

Light:

Full sun (6 or more hours of direct sunlight a day)

Partial Shade (Direct sunlight only part of the day, 2-6 hours)

Soil Drainage:

Good Drainage

Very Dry

Available Space To Plant:

Less than 12 inches

USDA Plant Hardiness Zone:

4a, 4b, 5a, 5b, 6a, 6b, 7a, 7b, 8a, 8b, 9a, 9b
Fruit:

Fruit Type:

Capsule
Flowers:

Flower Color:

Gold/Yellow

Orange

Pink

Purple/Lavender

Red/Burgundy

White

Flower Value To Gardener:

Showy

Flower Bloom Time:

Spring

Flower Shape:

Star

Flower Description:

Pink flowers; cultivars come in a variety of colors.
Leaves:

Leaf Color:

Blue

Gray/Silver

Green

Pink

Red/Burgundy

Leaf Value To Gardener:

Edible

Showy

Deciduous Leaf Fall Color:

Pink

Leaf Arrangement:

Whorled

Hairs Present:

No

Leaf Description:

Forms a perfect, circular mound of arching stems covered with fleshy, round, blue-green foliage in whorls of three. Edged with a deep pink to reddish line. Turns pink in winter.
Stem:

Stem Color:

Green

Red/Burgundy

Stem Is Aromatic:

No

Stem Description:

Reddish tinge
Landscape:

Landscape Location:

Recreational Play Area

Landscape Theme:

Children's Garden

Drought Tolerant Garden

Pollinator Garden

Rock Garden

Attracts:

Pollinators

Songbirds

Resistance To Challenges:

Drought

Dry Soil

Problems:

Poisonous to Humans