Sedum acre
Common Name(s):
Phonetic Spelling

SEE-dum AY-ker

Description

Sedum is a genus of succulent, herbaceous, evergreen, perennials with fleshy, flat or rounded leaves depending on the species. In general, the plant is upright and spreads along the ground. The genus has over 300 species, though many have been moved to the genus Hylotelephium. The genus name comes from the Latin word sedeo meaning to sit in reference to the habit of many of the sedums species to sit and sprawl over rocks.

S. acre, or Moss Stonecrop, is a small, hardy, highly salt tolerant, species of Sedum that, like many of its genus, tolerates only occassional foot traffic. The leaves tend to fall off easily; however, the fallen leaves can be used to propagate new plants. Some references describe this plant as mildly toxic if ingested, while others do not. The species is named for its acrid taste. In any event, stems and leaves may be eaten raw when very young and tender. As the stems and leaves age, but before the plants flower, the edible parts may still be eaten if they are briefly cooked. The sap can irritate the skin of some people and the leaves, eaten in quantity, can cause stomach upsets.

In nature, Moss Stonecrop is often found in sunny situations on limestone hills, rocks and walls, especially near the sea. It can be grown as a houseplant with bright direct light from a window or grow light. Use a coarse, well-drained soil, preferably a cactus mix. When grown outdoors, site for sun to part sun in well-drained soil. It seldom needs watering, but will grow in moist soils with good drainage. The plant tolerates maritime exposure, rocky and poor soils, and establishes itself quickly. The succulent leaves make it drought and dry soil tolerant. The plant is low to the ground, mat forming, and spreads aggressively and can be used for ground cover in a sunny position; although it can overwhelm other plants of similar height.

Diseases, Insect Pests, and Other Plant Problems:

No serious diseases or insect problems, except for occasional slugs and snails. Avoid wet or poorly drained conditions.

VIDEO Created by Elisabeth Meyer for "Houseplants, Succulents, and Cacti", a plant identification course offered in partnership with Longwood Gardens.

Profile Video:

See this plant in the following landscape:
Cultivars / Varieties:

'Octoberfest'
Creamy white flowers.

'Octoberfest'

Tags: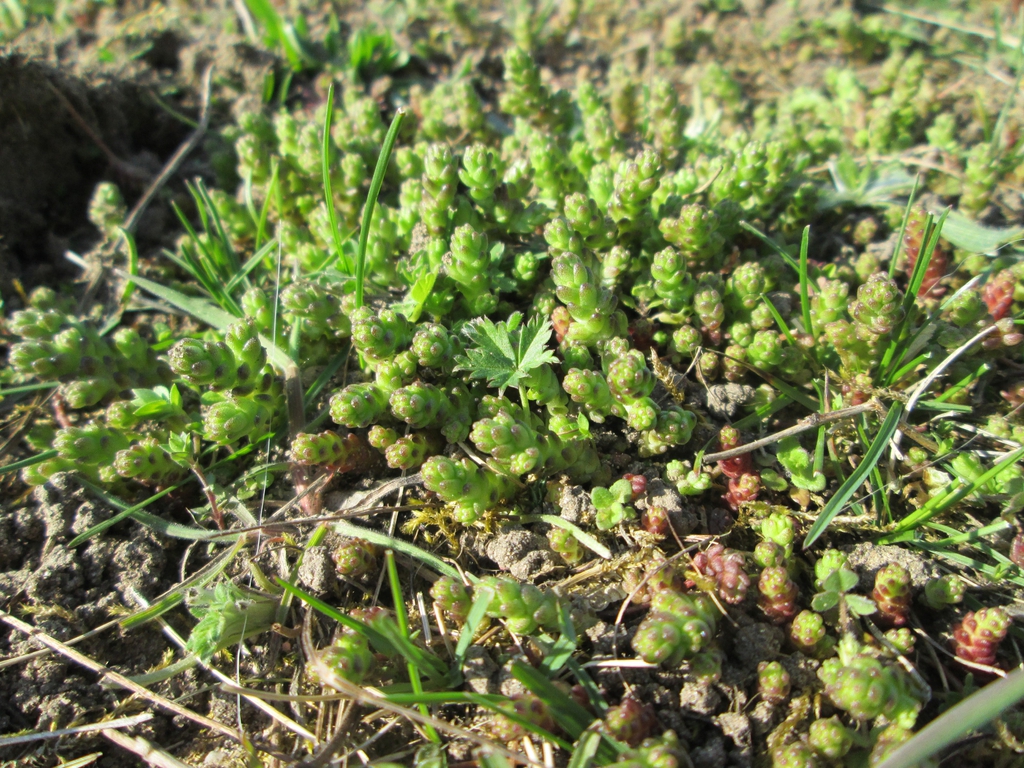 Cultivars / Varieties:

'Octoberfest'
Creamy white flowers.

'Octoberfest'

Tags:
Attributes:

Genus:

Sedum

Species:

acre

Family:

Crassulaceae

Life Cycle:

Perennial

Recommended Propagation Strategy:

Division

Leaf Cutting

Seed

Country Or Region Of Origin:

Greenland, Eastern Europe to Mediterranean, Balkans and Caucasus

Distribution:

Britain, Canada, Eastern United States south to Carolina, upper mid-West, and Northwest.

Wildlife Value:

Attracts butterflies

Play Value:

Attractive Flowers

Attracts Pollinators

Textural

Edibility:

Stems and leaves can be eaten, but when ingested in large quantities, can cause stomach upset.

Dimensions:

Height: 0 ft. 1 in. - 0 ft. 4 in.

Width: 1 ft. 0 in. - 2 ft. 0 in.
Whole Plant Traits:

Plant Type:

Ground Cover

Herbaceous Perennial

Houseplant

Perennial

Succulent

Woody Plant Leaf Characteristics:

Broadleaf Evergreen

Deciduous

Habit/Form:

Creeping

Dense

Horizontal

Spreading

Growth Rate:

Rapid

Maintenance:

Low

Texture:

Medium
Cultural Conditions:

Light:

Full sun (6 or more hours of direct sunlight a day)

Partial Shade (Direct sunlight only part of the day, 2-6 hours)

Soil Texture:

Sand

Shallow Rocky

Soil pH:

Alkaline (>8.0)

Neutral (6.0-8.0)

Soil Drainage:

Good Drainage

Moist

Occasionally Dry

Available Space To Plant:

12 inches-3 feet

NC Region:

Coastal

Mountains

Piedmont

USDA Plant Hardiness Zone:

3a, 3b, 4a, 4b, 5b, 5a, 6a, 6b, 7a, 7b, 8a, 8b, 9b, 9a
Fruit:

Fruit Type:

Capsule
Flowers:

Flower Color:

Gold/Yellow

Flower Inflorescence:

Cyme

Flower Value To Gardener:

Showy

Flower Bloom Time:

Spring

Summer

Flower Shape:

Star

Flower Petals:

4-5 petals/rays

Flower Size:

< 1 inch

Flower Description:

Small, terminal clusters of tiny, star-shaped, five-petaled, yellow flowers (each to 1/2 inch across) bloom in flat terminal inflorescences just above the foliage June to July.
Leaves:

Woody Plant Leaf Characteristics:

Broadleaf Evergreen

Deciduous

Leaf Color:

Green

Leaf Feel:

Fleshy

Leaf Value To Gardener:

Long-lasting

Leaf Type:

Simple

Leaf Arrangement:

Opposite

Leaf Shape:

Ovate

Leaf Margin:

Entire

Hairs Present:

No

Leaf Length:

< 1 inch

Leaf Width:

< 1 inch

Leaf Description:

Thick cover of blunt, conical, pale green leaves (each to only 1/4 inch long). Leaves overlap like shingles.
Stem:

Stem Is Aromatic:

No

Stem Cross Section:

Round

Stem Description:

low, thick stems
Landscape:

Landscape Location:

Container

Houseplants

Naturalized Area

Recreational Play Area

Rock Wall

Slope/Bank

Landscape Theme:

Children's Garden

Pollinator Garden

Rock Garden

Design Feature:

Border

Mass Planting

Attracts:

Pollinators

Songbirds

Resistance To Challenges:

Deer

Drought

Poor Soil

Rabbits

Salt