Other Common Name(s):
Other plants called Rattlesnake Master: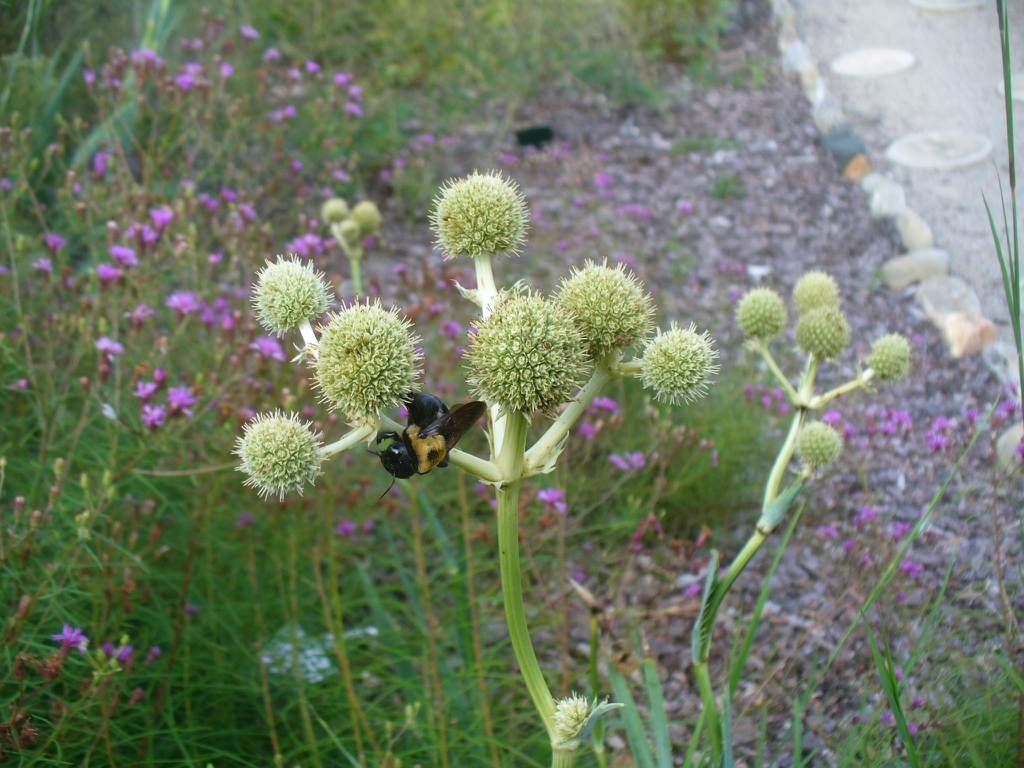 Cultivars / Varieties:

var. synchaetum
Coastal plain and wet savannas southeastern NC to FL
var. yuccifolium
Found in open sites and prairies with some moisture

var. synchaetum, var. yuccifolium

Tags:

#water garden#fragrant flowers#perennials#white flowers#moths#native perennials#winter interest#accent plant#rabbit resistant#pond margins#NC native#summer flowers#deer resistant#nighttime garden#blue-green leaves#spiny leaves#native garden#self-seeding#cutting garden#pollinator plant#native wildflower#wildflower garden#flowers mid-summer#dried arrangements#larval host plant#NC Native Pollinator Plant#flowers late summer#food source nectar#food source pollen#Coastal FAC#Piedmont Mountains FAC#border middle#small group plantings#wet soils tolerant#unusual flowers#butterfly friendly#moth larvae#Audubon#NC Wildflower of the Year
Attributes:

Genus:

Eryngium

Species:

yuccifolium

Family:

Apiaceae

Uses (Ethnobotany):

The sap and roots were used in traditional medicine. Native Americans used the leaves to weave baskets and sandals.

Life Cycle:

Perennial

Recommended Propagation Strategy:

Division

Seed

Country Or Region Of Origin:

U. S. native

Wildlife Value:

Attracts pollinator insects including wasps, flies, bees, and butterflies like monarchs and skippers. Soilder beetles eat the pollen. The rattle snake master stem-borer moth Papaipema eryngii) uses the plant as a larval host.

Play Value:

Attracts Pollinators

Wildlife Food Source

Dimensions:

Height: 4 ft. 0 in. - 6 ft. 0 in.

Width: 3 ft. 0 in. - 6 ft. 0 in.
Whole Plant Traits:

Plant Type:

Native Plant

Perennial

Wildflower

Habit/Form:

Clumping

Erect

Texture:

Coarse
Cultural Conditions:

Light:

Full sun (6 or more hours of direct sunlight a day)

Soil Texture:

Clay

Loam (Silt)

Sand

Shallow Rocky

Soil pH:

Acid (<6.0)

Alkaline (>8.0)

Neutral (6.0-8.0)

Soil Drainage:

Good Drainage

Moist

Occasionally Dry

Available Space To Plant:

3 feet-6 feet

NC Region:

Coastal

Mountains

Piedmont

USDA Plant Hardiness Zone:

3a, 3b, 4b, 4a, 5b, 5a, 6b, 6a, 7a, 7b, 8b, 8a
Fruit:

Fruit Color:

Brown/Copper

Fruit Type:

Schizocarp

Fruit Description:

1/4" long brown seeds 2 per fruit.
Flowers:

Flower Color:

Blue

Green

White

Flower Value To Gardener:

Fragrant

Good Cut

Good Dried

Showy

Flower Bloom Time:

Summer

Flower Size:

< 1 inch

Flower Description:

The white, small dense (acorn, button, or ball shaped) flowers are composed of many tiny parts, tightly packed in globular heads 1 inch across and grouped in clumps of 8-10. Individual flowers have 5 white petals, 5 white stamens with brown anthers, a pistil with two white styles. They have a sweet honey-like smell and attract pollinators. They bloom from June to August and turn from a green white to a blue color at maturity.
Leaves:

Leaf Color:

Blue

Green

Leaf Feel:

Prickly

Leaf Type:

Simple

Leaf Arrangement:

Rosulate

Leaf Shape:

Linear

Hairs Present:

No

Leaf Length:

> 6 inches

Leaf Width:

1-3 inches

Leaf Description:

Leaves are long and narrow, looking similar to a corn stalk or tulip leaf with parallel veins even though this plant is a dicot. The margins have filiform or spiny teeth.
Stem:

Stem Color:

Green

Stem Is Aromatic:

No

Stem Description:

Stems that hold the flowers have an opposite arrangement grow 3 to 4 feet tall from the center of the rosette of leaves and resemble a pitchfork.
Landscape:

Landscape Location:

Naturalized Area

Pond

Woodland

Landscape Theme:

Butterfly Garden

Drought Tolerant Garden

Native Garden

Nighttime Garden

Pollinator Garden

Water Garden

Winter Garden

Design Feature:

Accent

Border

Specimen

Attracts:

Bees

Butterflies

Moths

Pollinators

Predatory Insects

Resistance To Challenges:

Deer

Drought

Rabbits

Wet Soil

Problems:

Spines/Thorns