Other Common Name(s):
Phonetic Spelling

er-RIN-jee-um yuk-ki-FOH-lee-um

Description

Habitat: Var. synchaetum: Wet savannas, especially those over calcareous clay soils; var. yuccifolium: Diabase barrens and glades, olivine barrens, pine savannas, pine flatwoods over loamy or clay soils, prairies, other open sites with at least periodic moisture, generally in sites showing some prairie affinities

2016 Wildflower of the Year (straight species). Attractive & unusual foliage & flowers.
Cultivars / Varieties:

Var. synchaetum
wet savannas
var. yuccifolium


Tags: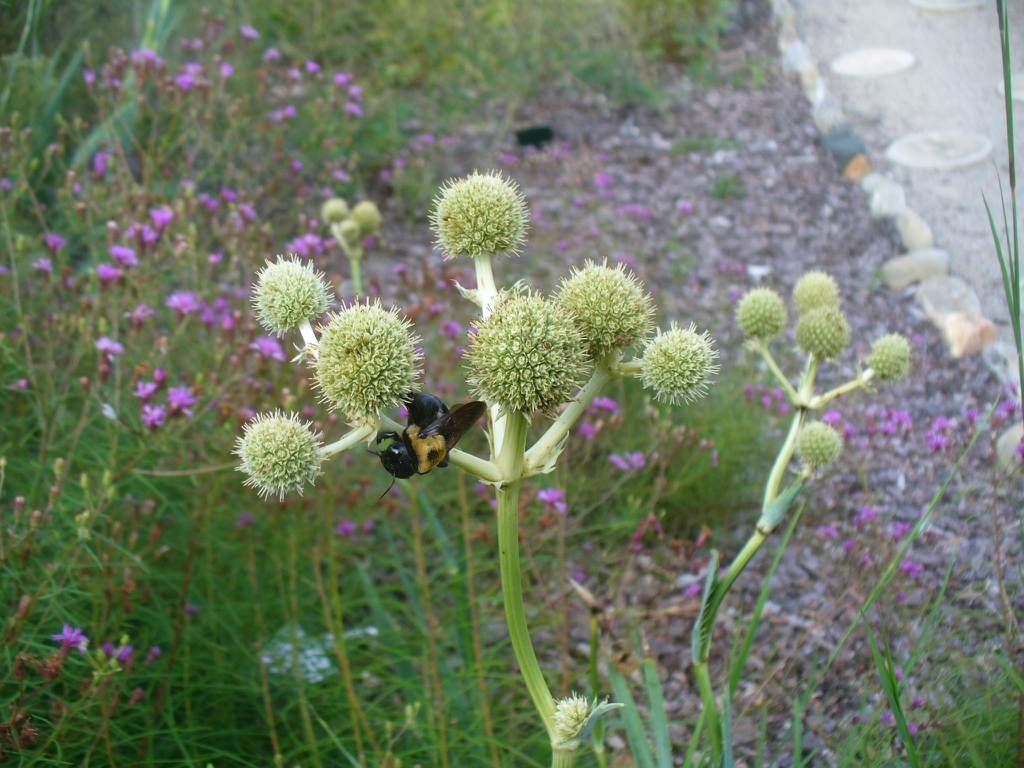 Cultivars / Varieties:

Var. synchaetum
wet savannas
var. yuccifolium


Tags:
Attributes:

Genus:

Eryngium

Species:

yuccifolium

Family:

Apiaceae

Life Cycle:

Perennial

Wildlife Value:

Attracts pollinator insects, especially small butterflies

Play Value:

Attracts Pollinators

Wildlife Food Source

Dimensions:

Height: 4 ft. 0 in. - 5 ft. 0 in.

Width: 12 ft. 0 in. - 16 ft. 0 in.
Whole Plant Traits:

Plant Type:

Native Plant

Perennial

Wildflower
Cultural Conditions:

Light:

Full sun (6 or more hours of direct sunlight a day)

Soil Drainage:

Moist

Occasionally Dry

NC Region:

Coastal

Mountains

Piedmont
Flowers:

Flower Color:

Blue

White

Flower Bloom Time:

Summer

Flower Description:

Stems that hold the flowers are have opposite arrangement. The white, small (a bit acorn, button, or ball shaped) shaped flowers are composed of many tiny parts. They bloom from June to August.
Leaves:

Leaf Color:

Green

Hairs Present:

No

Leaf Description:

Leaves are long and narrow (looking somewhere between a weed, corn stalk, and tulip leaves).
Stem:

Stem Is Aromatic:

No
Landscape:

Landscape Theme:

Butterfly Garden

Native Garden

Pollinator Garden

Attracts:

Bees

Butterflies

Pollinators