Other Common Name(s):
Phonetic Spelling

ep-ih-LOW-bee-um an-gus-tee-FOH-lee-um

Description

A rhizomatous perennial wildflower that is easy to grow in full sun to partial shade, high organic matter, well-drained soil. It can struggle in our hot southern summers, requiring afternoon shade and moist soils and does best in the mountain region of the state. It is found in a variety of areas including roadsides, clearings, and open woods. The common name comes from its propensity to appear after fires. Plant in informal areas of the landscape including meadows or woodland gardens, in borders, or massed in rock or cottage gardens. To encourage more blooming remove spent flowers before they go to seed.

Insects. Diseases, and Other Plant Problems: Snails and slugs are occasional visitors. Powdery mildew, rust, and leaf spot are occasional problems. The wind-dispersed seeds can make fireweed weedy and aggressive.

See this plant in the following landscape:
Cultivars / Varieties:

Tags: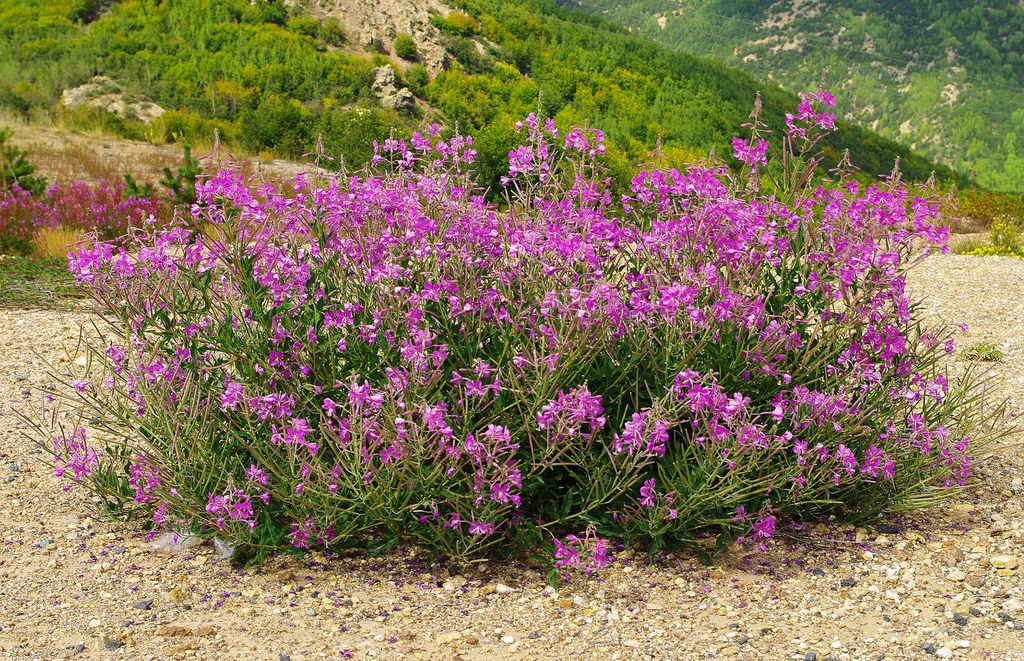 Cultivars / Varieties:

Tags:
Attributes:

Genus:

Epilobium

Species:

angustifolium

Family:

Onagraceae

Life Cycle:

Perennial

Recommended Propagation Strategy:

Seed

Country Or Region Of Origin:

Greenlan, Eurasia

Wildlife Value:

Honeybees are attracted to the flowers and the nectar from fireweed makes delicious honey.

Dimensions:

Height: 3 ft. 0 in. - 5 ft. 0 in.

Width: 1 ft. 0 in. - 3 ft. 0 in.
Whole Plant Traits:

Plant Type:

Herbaceous Perennial

Wildflower

Woody Plant Leaf Characteristics:

Deciduous

Maintenance:

Medium

Texture:

Medium
Cultural Conditions:

Light:

Full sun (6 or more hours of direct sunlight a day)

Partial Shade (Direct sunlight only part of the day, 2-6 hours)

Soil Texture:

Shallow Rocky

Soil Drainage:

Good Drainage

Moist

Available Space To Plant:

12 inches-3 feet

3 feet-6 feet

NC Region:

Mountains
Fruit:

Display/Harvest Time:

Fall

Summer

Fruit Description:

seed pod contains numerous seeds with a tuft of silky hairs at one end. Seeds are wind-dispersed.
Flowers:

Flower Color:

Pink

Purple/Lavender

Flower Inflorescence:

Raceme

Flower Value To Gardener:

Showy

Flower Bloom Time:

Summer

Flower Shape:

Saucer

Flower Petals:

4-5 petals/rays

Flower Size:

1-3 inches

Flower Description:

1-1.5 in. deep pink to magenta-purple saucer-shaped flowers on an elongated, slender, drooping inflorescence; four roundish petals. Blooms in summer from the bottom to the top of the stem in terminal racemes.
Leaves:

Woody Plant Leaf Characteristics:

Deciduous

Leaf Color:

Green

Leaf Type:

Simple

Leaf Arrangement:

Alternate

Leaf Shape:

Lanceolate

Linear

Hairs Present:

No

Leaf Length:

3-6 inches

Leaf Width:

< 1 inch

Leaf Description:

2"-8" in. long 3/4" wide willow-like lanceolate or linear leaves with pinnate veins
Stem:

Stem Color:

Green

Red/Burgundy

Stem Is Aromatic:

No

Stem Description:

Reddish green, unbranched, stiff, upright
Landscape:

Landscape Location:

Naturalized Area

Woodland

Landscape Theme:

Cottage Garden

Rock Garden

Design Feature:

Border

Mass Planting

Small groups