Viola bicolor
Common Name(s):
Previously known as:
Viola kitaibeliana
Viola kitaibeliana var. rafinesquei
Viola rafinesquei
Phonetic Spelling

vy-OH-la BY-kul-ur

Description

Field pansy is a native annual plant in the violet family found throughout much of North America and is a winter annual weed. It forms colonies in fields, along roadsides and other disturbed sites such as prairies, pastures, and other waste areas. It is most abundant in sandy soils. It prefers full sun in moist sandy soil but adapts to other soils and part shade. Although considered weedy, this little plant attracts wildlife and is an early spring nectar source for bees. It tolerates light foot traffic and can be used as a lawn alternative.

The flower is solitary, rising from the leaf axils on the stalks. It has 5 dark veined petals, with the lateral petals bearded and the lower one will have a yellow patch at its base. The petals are typically pale blue, however can also be white with a slight blue tint.

This is the only annual in the Violet species that produce cleistogamous flowers. That is a type of automatic self-pollination of a plant by using non-opening but self-pollinating flowers.

A distinguishing feature of this viola is the length of the sepals. Its petals are longer than the sepals, whereas other varieties of violas have petals that are shorter than the sepals.

Field pansy can be planted in home landscapes, however, ir has a weedy nature making it a poor choice or the perennial garden. Best planted in large areas such as a meadow where it is free to spread.

Its common name Johnny-jump-up comes from its quick growth in the spring. It appears to jump up.

Insects, Diseases, and Other Plant Problems: No significant problems.

The Clemson Cooperative Extension Home & Garden Information Center has a factsheet on common pests and diseases.

See this plant in the following landscape:
Cultivars / Varieties:

Tags: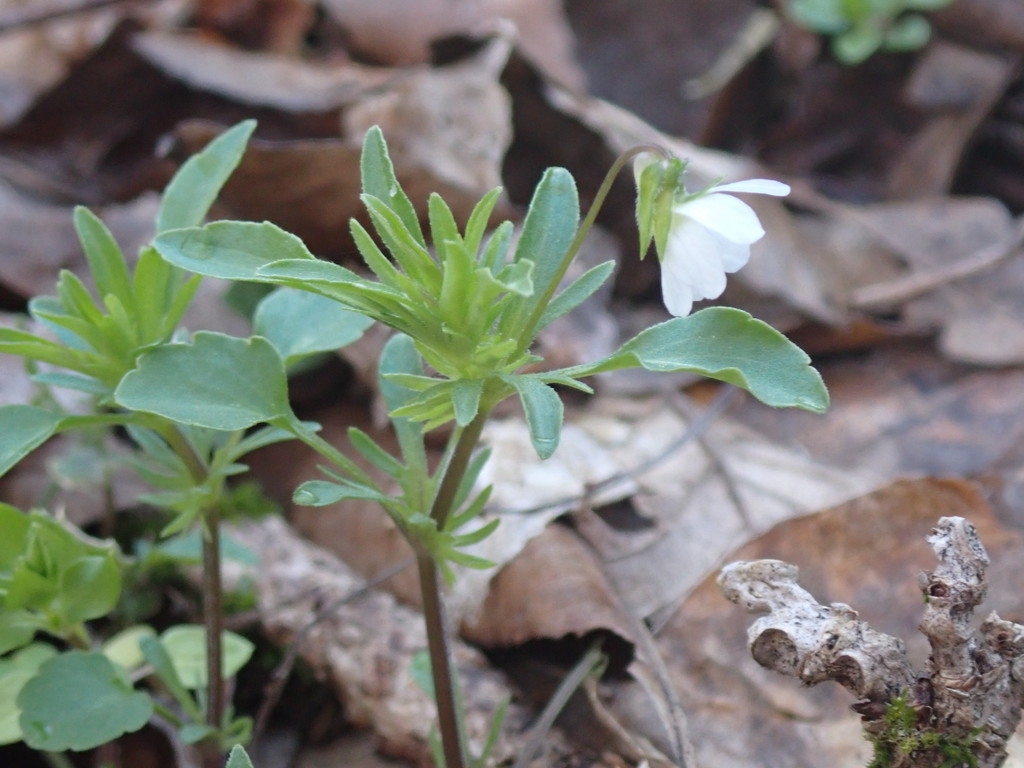 Cultivars / Varieties:

Tags:
Attributes:

Genus:

Viola

Species:

bicolor

Family:

Violaceae

Uses (Ethnobotany):

Native Americans used the plant for food and made teas to treat various ailments

Life Cycle:

Annual

Perennial

Country Or Region Of Origin:

North America

Distribution:

AL , AR , AZ , CO , DC , DE , FL , GA , IA , ID , IL , IN , KS , KY , LA , MA , MD , MI , MO , MS , NC , NE , NJ , NM , NY , OH , OK , PA , SC , SD , TN , TX , VA , WV

Wildlife Value:

This plant supports Fritillary butterfly larvae. Bees visit the flowers and caterpillars of fritillary butterflies will feed on the foliage.

Play Value:

Attracts Pollinators

Easy to Grow

Wildlife Larval Host

Edibility:

Leaves and flowers are edible.
Whole Plant Traits:

Plant Type:

Annual

Herb

Native Plant

Weed

Wildflower

Habit/Form:

Erect

Prostrate

Spreading

Growth Rate:

Medium

Maintenance:

High

Texture:

Fine
Cultural Conditions:

Light:

Full sun (6 or more hours of direct sunlight a day)

Partial Shade (Direct sunlight only part of the day, 2-6 hours)

Soil Texture:

Clay

Loam (Silt)

Sand

Soil pH:

Acid (<6.0)

Soil Drainage:

Good Drainage

Moist

Occasionally Dry

Available Space To Plant:

Less than 12 inches

NC Region:

Coastal

Mountains

Piedmont

USDA Plant Hardiness Zone:

4a, 4b, 5a, 5b, 6a, 6b, 7a, 7b, 8a, 8b, 9a, 9b, 10a, 10b
Fruit:

Fruit Color:

Brown/Copper

Fruit Type:

Capsule

Fruit Description:

Oblong capsules split to eject small rounded light brown seeds.
Flowers:

Flower Color:

Blue

White

Flower Inflorescence:

Head

Flower Value To Gardener:

Showy

Flower Bloom Time:

Spring

Flower Shape:

Lipped

Radial

Flower Petals:

4-5 petals/rays

asymmetrical petals

Flower Size:

< 1 inch

Flower Description:

The ½" solitary blooms have 5 petals and 5 sepals. The petals are pale to medium blue-violet with dark purple lines. The lowermost petal has a patch of yellow near its base. The lateral petals are bearded with white hairs near the throat.
Leaves:

Leaf Color:

Green

Leaf Feel:

Smooth

Leaf Type:

Simple

Leaf Arrangement:

Alternate

Leaf Shape:

Oblanceolate

Obovate

Orbicular

Leaf Margin:

Crenate

Entire

Hairs Present:

No

Leaf Length:

1-3 inches

Leaf Width:

1-3 inches

Leaf Description:

Small, veined basal leaves are orbicular. The alternate stem leaves are up to 2 inches long and obovate, becoming narrower as they go up the stem. They are hairless with crenate to entire margins. The leaves grow in clusters on the stem. Out of these clusters grow 1 or 2 leafless stems with a single blossom at the end.
Stem:

Stem Color:

Green

Purple/Lavender

Stem Is Aromatic:

No

Stem Surface:

Smooth (glabrous)

Stem Description:

The stems are light green to purplish green and hairless
Landscape:

Landscape Location:

Lawn

Meadow

Naturalized Area

Slope/Bank

Woodland

Landscape Theme:

Butterfly Garden

Native Garden

Pollinator Garden

Rock Garden

Design Feature:

Border

Mass Planting

Attracts:

Bees

Butterflies

Pollinators

Resistance To Challenges:

Foot Traffic

Problems:

Weedy