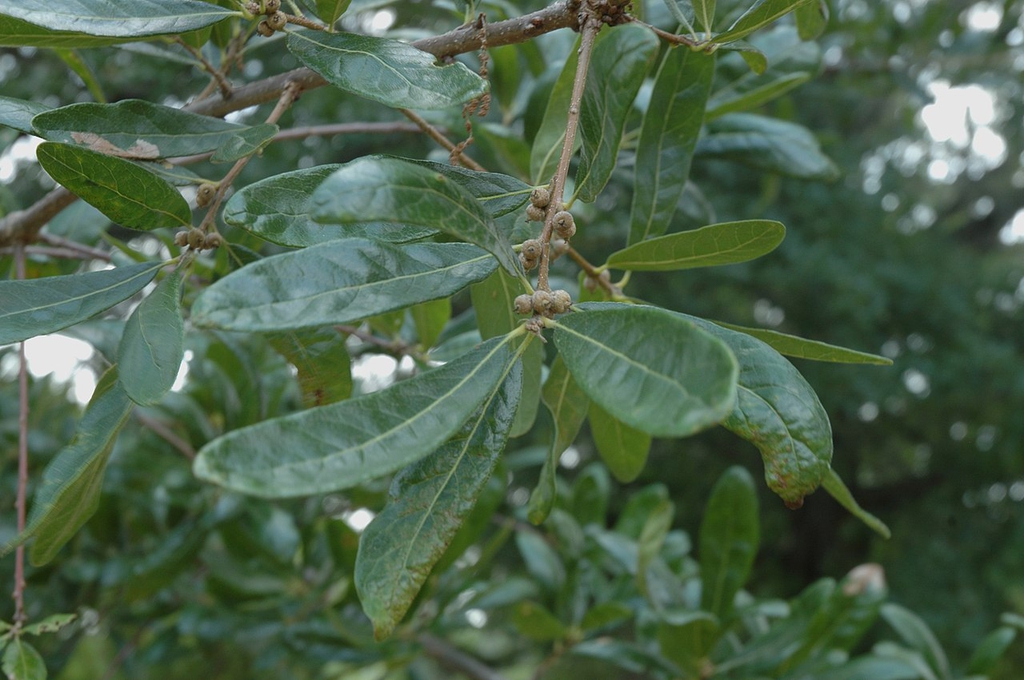 Cultivars / Varieties:

Tags:

#deciduous#shade tree#full sun tolerant#moth caterpillar host#fall interest#endangered#deer resistant#nighttime garden#large spaces#oak#pollinator plant#larval host plant#clay soils tolerant#butterfly friendly#problem for horses#banded hairstreak butterfly#gray hairstreak butterfly#imperial moth#juvenal's duskywing butterfly#edward's hairstreak butterfly#white-m hairstreak butterfly#horace's duskywing butterfly#wildlife friendly
Attributes:

Genus:

Quercus

Species:

oglethorpensis

Family:

Fagaceae

Life Cycle:

Perennial

Woody

Recommended Propagation Strategy:

Seed

Country Or Region Of Origin:

Alabama, NE. Georgia, W. South Carolina, Louisiana, Mississippi

Distribution:

GA , LA , MS , SC

Wildlife Value:

Mildly resistant to deer damage. Birds and mammals eat the acorns. Oak trees support a wide variety of Lepidopteran. You may see Imperial Moth (Eacles imperialis) larvae which have one brood per season and appear from April-October in the south. Adult Imperial Moths do not feed. Banded Hairstreak (Satyrium calanus), which have one flight from June-August everywhere but Florida where they emerge April-May. Edward's Hairstreak (Satyrium edwardsii), has one flight from May-July in the south and June-July in the north. Gray Hairstreak (Strymon melinus), has three to four flights in the south from February-November and two flights in the north from May-September. White-M Hairstreak (Parrhasius m-album) has three broods in the north from February-October. Horace's Duskywing (Erynnis horatius) has three broods in Texas and the deep south from January-November, and two broods in the north from April-September. Juvenal's Duskywing (Erynnis juvenalis) has one brood from April-June, appearing as early as January in Florida.

Play Value:

Wildlife Food Source

Edibility:

Acorns (nuts) are edible after tannins are leached or boiled out.

Dimensions:

Height: 50 ft. 0 in. - 80 ft. 0 in.

Width: 45 ft. 0 in. - 65 ft. 0 in.
Whole Plant Traits:

Plant Type:

Poisonous

Tree

Woody Plant Leaf Characteristics:

Deciduous

Habit/Form:

Oval

Pyramidal

Rounded
Cultural Conditions:

Light:

Full sun (6 or more hours of direct sunlight a day)

Soil Texture:

Clay

Loam (Silt)

Soil Drainage:

Good Drainage

Occasionally Wet

Available Space To Plant:

24-60 feet

NC Region:

Piedmont

USDA Plant Hardiness Zone:

6a, 6b, 7a, 7b, 8a, 8b, 9a, 9b
Fruit:

Fruit Color:

Brown/Copper

Display/Harvest Time:

Fall

Fruit Type:

Nut

Fruit Length:

< 1 inch

Fruit Width:

< 1 inch

Fruit Description:

0.5 in. dark brown acorn enclosed 1/3 by a cup which is top-shaped, with appressed scales. They mature in 1 year;
Flowers:

Flower Color:

Brown/Copper

Flower Inflorescence:

Catkin

Insignificant

Flower Bloom Time:

Spring

Flower Description:

Male and female flowers grow on the same tree. Male flowers are borne on hanging slender catkins and females are borne on short spikes.
Leaves:

Woody Plant Leaf Characteristics:

Deciduous

Leaf Color:

Green

Leaf Feel:

Leathery

Deciduous Leaf Fall Color:

Brown/Copper

Red/Burgundy

Leaf Type:

Simple

Leaf Arrangement:

Alternate

Leaf Shape:

Elliptical

Oblanceolate

Leaf Margin:

Entire

Sinuate

Hairs Present:

Yes

Leaf Length:

3-6 inches

Leaf Width:

1-3 inches

Leaf Description:

Dark green leaves which are hairless above and light green beneath with yellowish pubescence. Leaves persist into winter. They are 2-5 inch long and 1/2 - 2 inches wide. Margins are smooth to wavy.
Bark:

Bark Color:

Light Brown

Light Gray

Surface/Attachment:

Ridges

Bark Description:

The bark is gray-brown, tight and quite hard, with broad, irregular ridges and very shallow furrows.
Stem:

Stem Color:

Brown/Copper

Gray/Silver

Red/Burgundy

Stem Is Aromatic:

No

Stem Description:

Young twigs are reddish-brown and hairless. On older twigs and branches grayish.
Landscape:

Landscape Location:

Lawn

Meadow

Naturalized Area

Landscape Theme:

Butterfly Garden

Native Garden

Nighttime Garden

Pollinator Garden

Design Feature:

Shade Tree

Attracts:

Butterflies

Moths

Pollinators

Resistance To Challenges:

Deer

Wet Soil

Problems:

Problem for Horses
Poisonous to Humans:

Poison Severity:

Low

Poison Symptoms:

Stomach pain, constipation and later bloody diarrhea, excessive thirst and urination if young leaves or raw acorns eaten.

Poison Toxic Principle:

Gallotannins, quercitrin, and quercitin.

Causes Contact Dermatitis:

No

Poison Part:

Fruits

Leaves