Microstegium vimineum
Common Name(s):
Description

Japanese stilt grass is a summer annual weed that grows to 3.5 feet and can root at each node to make a new plant. The plant was accidentally introduced into Tennessee around 1919 as a result of being used as packing material for porcelain from China. It has now spread to 26 states, primarily the eastern and central states. It invades disturbed and undisturbed areas.

It prefers partly shaded moist growing conditions but is very adaptable to other conditions and most soils. It spreads by seeds and vegetatively. It is listed as invasive in several states.
Cultivars / Varieties:

Tags: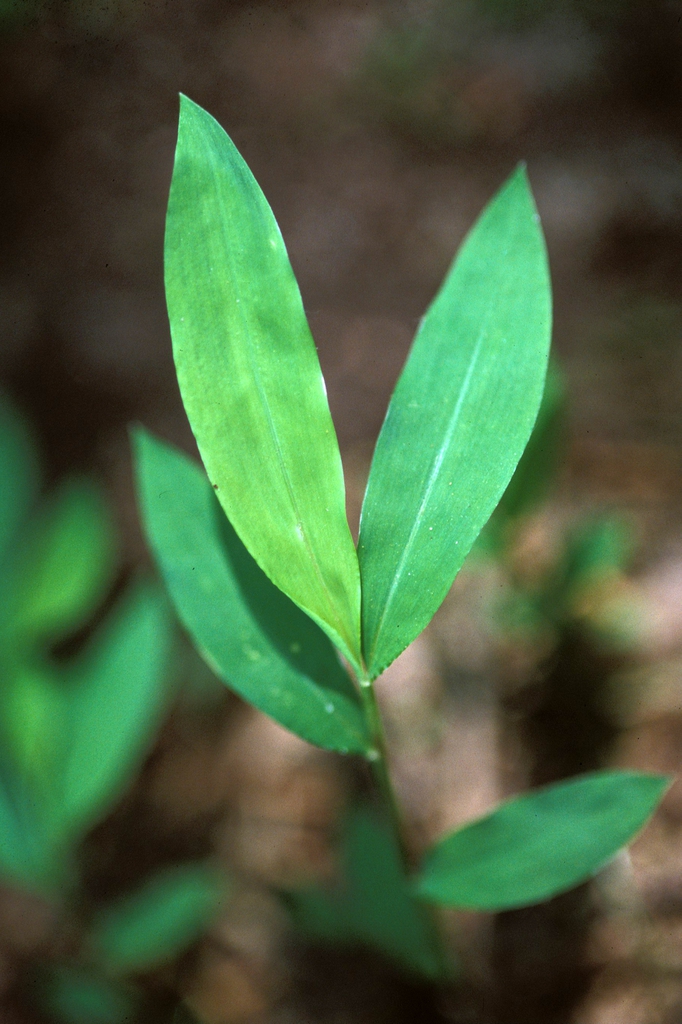 Cultivars / Varieties:

Tags:
Attributes:

Genus:

Microstegium

Species:

vimineum

Family:

Poaceae

Life Cycle:

Annual

Recommended Propagation Strategy:

Seed

Country Or Region Of Origin:

Pakistan to Japan
Whole Plant Traits:

Plant Type:

Annual

Weed

Habit/Form:

Ascending

Spreading

Growth Rate:

Rapid

Maintenance:

High

Texture:

Medium
Cultural Conditions:

Light:

Dappled Sunlight (Shade through upper canopy all day)

Full sun (6 or more hours of direct sunlight a day)

Partial Shade (Direct sunlight only part of the day, 2-6 hours)

Soil Texture:

Clay

Loam (Silt)

Sand

Soil pH:

Acid (<6.0)

Neutral (6.0-8.0)

Soil Drainage:

Moist

Occasionally Dry
Fruit:

Display/Harvest Time:

Fall

Summer

Fruit Type:

Caryopsis

Fruit Length:

< 1 inch

Fruit Width:

< 1 inch

Fruit Description:

Fruits are awned and bristly and are blown by the wind or stick to the fur of mammals. Many seeds produced by 1 plant that stay viable for 3 years.
Flowers:

Flower Inflorescence:

Insignificant

Raceme

Flower Bloom Time:

Fall

Summer

Flower Description:

Individual racemes are 1-3 inches long, consisting of several pairs of erect spikelets. Grass-like blooms are self-fertile to wind fertilized.
Leaves:

Leaf Color:

Green

Leaf Type:

Simple

Leaf Arrangement:

Alternate

Leaf Shape:

Elliptical

Linear

Leaf Margin:

Entire

Hairs Present:

Yes

Leaf Length:

1-3 inches

Leaf Width:

< 1 inch

Leaf Description:

The leaves are about 3 inches long and 1/2 inch across. They are linear-elliptic in shape with entire margins. The blade bases are narrowly cuneate (wedge-shaped), tips are acute. The upper surface is green and may have hairs toward their bases. The undersides are pale green.
Stem:

Stem Color:

Green

Purple/Lavender

Red/Burgundy

Stem Is Aromatic:

No

Stem Form:

Straight

Stem Surface:

Smooth (glabrous)

Stem Description:

The stem is light green to reddish-purple, glabrous, and terete. Lower stems spreading while upper stems are more erect.
Landscape:

Problems:

Weedy