Clematis teniflora
Common Name(s):
Previously known as:
Clematis dioscoreifolia
Clematis maximowicziana
Description

A clematis that blooms in the late summer to fall and has a sweet fragrance. While this plant can be very beautiful, be careful as it is a vigorous grower (spreading by seeds and runners), aggressive with spreading its seeds by itself, and therefore high maintenance: because of this, it is in some naturalized areas. If used as a ground cover, instead of a vine or even a shrub, then it will become quite dense that weeds will struggle to survive.

This plant can be grown as a ground cover, grown over tree stumps, as a shrub (but growing as a shrub takes more maintenance), and in vertical spaces(such as arbors, posts, trellises, or fences).

Looking for a native alternative? Clematis virginiana blooms in the autumn (around August to October) and is a U.S. native. Head over to this plant to read more of why it coud be a better option for your garden.
Cultivars / Varieties:

Tags: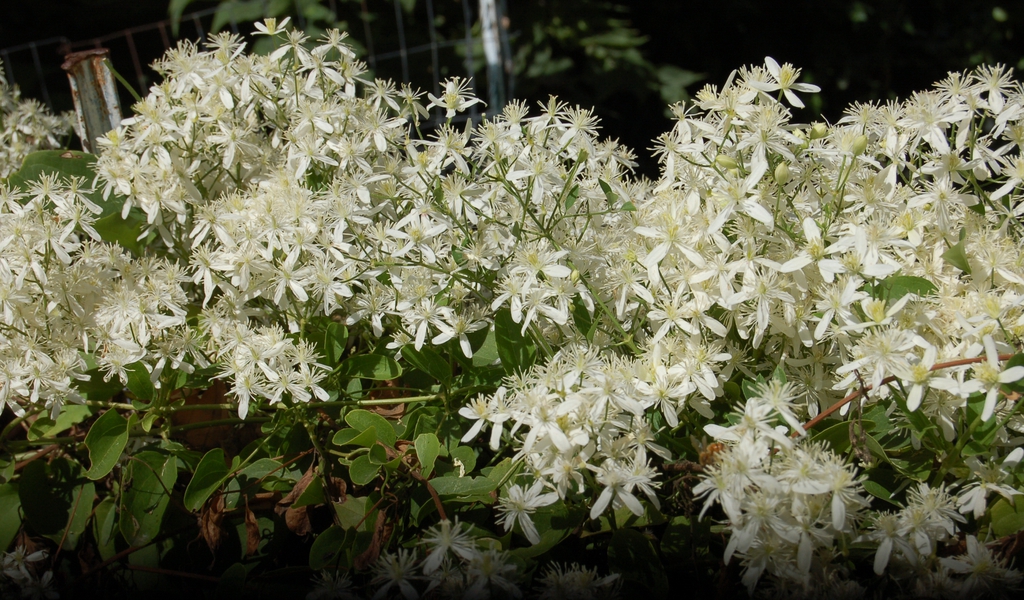 Cultivars / Varieties:

Tags:
Attributes:

Genus:

Clematis

Species:

teniflora

Family:

Ranunculaceae

Recommended Propagation Strategy:

Seed

Country Or Region Of Origin:

Japan

Particularly Resistant To (Insects/Diseases/Other Problems):

black walnut, deer, insect pests, diseases

Climbing Method:

Twining

Dimensions:

Height: 15 ft. 0 in. - 30 ft. 0 in.

Width: 15 ft. 0 in. - 30 ft. 0 in.
Whole Plant Traits:

Plant Type:

Ground Cover

Shrub

Vine

Leaf Characteristics:

Deciduous

Habit/Form:

Dense

Spreading

Growth Rate:

Rapid

Maintenance:

High
Cultural Conditions:

Light:

Full sun (6 or more hours of direct sunlight a day)

Partial Shade (Direct sunlight only part of the day, 2-6 hours)

Soil Drainage:

Good Drainage

Usda Plant Hardiness Zone:

5a, 5b, 6a, 6b, 7a, 7b, 8a, 8b, 9a, 9b
Fruit:

Fruit Color:

Cream/Tan

White

Fruit Description:

Seed heads come after flowers.
Flowers:

Flower Color:

Cream/Tan

White

Flower Inflorescence:

Panicle

Flower Value To Gardener:

Fragrant

Showy

Flower Bloom Time:

Fall

Summer

Flower Shape:

Cross

Flower Petals:

4-5 petals/rays

Flower Size:

1-3 inches

Flower Description:

Flowers bloom in late summer (August) to fall (October). Flowers are 1 inch across, and the 4 "petals" are actually sepals.
Leaves:

Leaf Characteristics:

Deciduous

Leaf Color:

Green

Leaf Feel:

Glossy

Leathery

Leaf Type:

Compound (Pinnately , Bipinnately, Palmately)

Leaf Arrangement:

Opposite

Leaf Shape:

Cordate

Elliptical

Ovate

Leaf Margin:

Entire

Hairs Present:

No

Leaf Description:

Shiny leaves
Stem:

Stem Is Aromatic:

No
Landscape:

Landscape Location:

Naturalized Area

Vertical Spaces

Resistance To Challenges:

Black Walnut

Deer

Diseases

Insect Pests
Clematis teniflora is often confused with:

Native alternative(s) for Clematis teniflora:

Plants that fill a similar niche: