Other Common Name(s):
Phonetic Spelling

uh-NEM-oh-nee HY-brid-ah

Description

Plant 'September Charm' in light to partial shade, if it is in full sun the soil must remain evenly moist. It can grow quite tall and may need some support. To propagate it make a division in the early spring or after it stops flowering. Place divided plants in a pot until the following spring and then plant in the yard. It can be grown from seed but germination can be erratic.

Insects. Diseases and Other Plant Problems: Flea beetles, caterpillars, and slugs are occasional pests. Susceptible to Synchytrium leaf gall, downy mildew, Septoria leaf spot, powdery mildew, and some viruses.

VIDEO created by Andy Pulte for "Landscape Plant Identification, Taxonomy and Morphology" a plant identification course offered by the Department of Plant Sciences, University of Tennessee.

Profile Video:

See this plant in the following landscape:
Cultivars / Varieties:

Tags: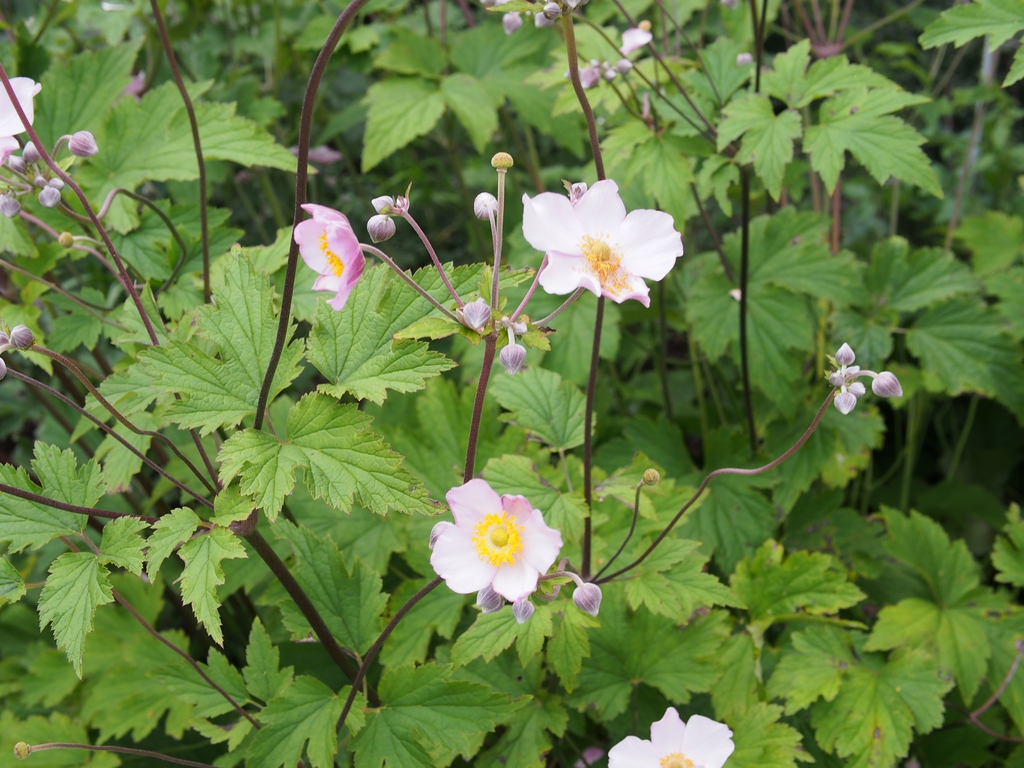 Cultivars / Varieties:

Tags:
Attributes:

Genus:

Anemone

Family:

Ranunculaceae

Life Cycle:

Perennial

Recommended Propagation Strategy:

Division

Seed

Dimensions:

Height: 3 ft. 0 in. - 4 ft. 0 in.

Width: 2 ft. 0 in. - 3 ft. 0 in.
Whole Plant Traits:

Plant Type:

Herbaceous Perennial

Perennial

Habit/Form:

Erect

Growth Rate:

Medium

Maintenance:

Low
Cultural Conditions:

Light:

Full sun (6 or more hours of direct sunlight a day)

Partial Shade (Direct sunlight only part of the day, 2-6 hours)

Soil Texture:

Clay

High Organic Matter

Loam (Silt)

Sand

Soil pH:

Acid (<6.0)

Alkaline (>8.0)

Neutral (6.0-8.0)

Soil Drainage:

Good Drainage

Moist

Available Space To Plant:

3 feet-6 feet

NC Region:

Coastal

Mountains

Piedmont

USDA Plant Hardiness Zone:

4a, 4b, 5a, 5b, 6a, 6b, 7a, 7b, 8a, 8b
Fruit:

Fruit Type:

Achene
Flowers:

Flower Color:

Pink

Flower Value To Gardener:

Good Cut

Showy

Flower Bloom Time:

Fall

Summer
Leaves:

Leaf Color:

Green

Hairs Present:

No
Stem:

Stem Is Aromatic:

No
Landscape:

Landscape Location:

Coastal

Meadow

Landscape Theme:

Cottage Garden

Cutting Garden

Design Feature:

Border

Resistance To Challenges:

Deer

Rabbits

Salt

Wet Soil