Other Common Name(s):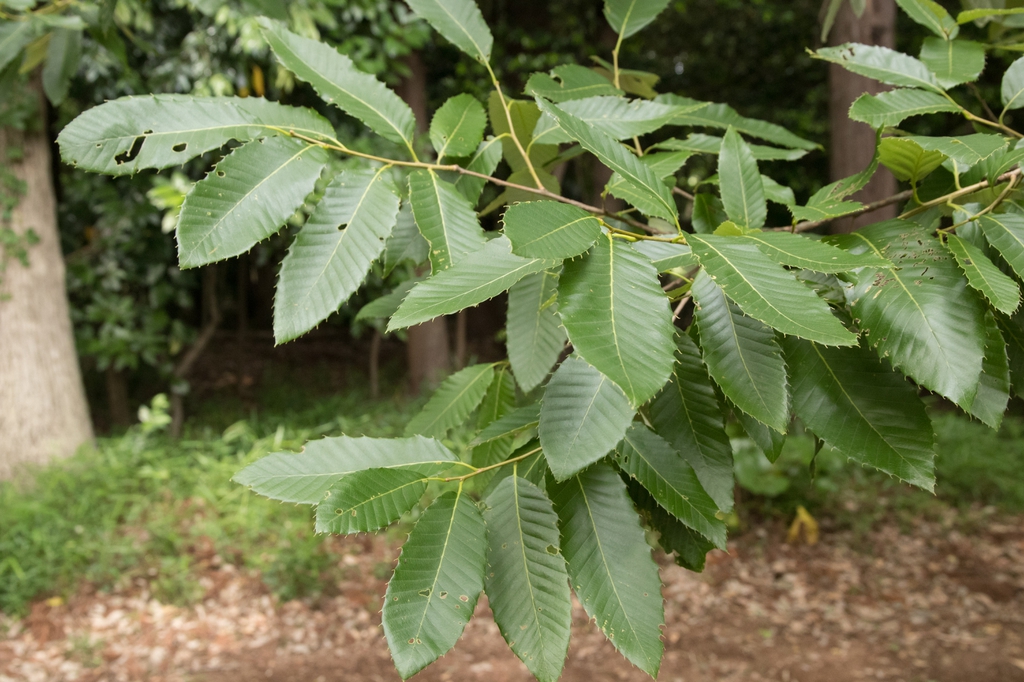 Cultivars / Varieties:

Tags:

#hardy#deciduous#shade tree#full sun tolerant#drought tolerant#moth caterpillar host#street tree#deer resistant#acorns#nighttime garden#oak tree#pollinator plant#Asian garden#larval host plant#butterfly friendly#problem for horses#banded hairstreak butterfly#gray hairstreak butterfly#imperial moth#juvenal's duskywing butterfly#edward's hairstreak butterfly#white-m hairstreak butterfly#horace's duskywing butterfly#wildlife friendly
Attributes:

Genus:

Quercus

Species:

variabilis

Family:

Fagaceae

Uses (Ethnobotany):

Bark can be used for cork production

Life Cycle:

Woody

Recommended Propagation Strategy:

Seed

Country Or Region Of Origin:

Asia

Wildlife Value:

Oak trees support a wide variety of Lepidopteran. You may see Imperial Moth (Eacles imperialis) larvae which have one brood per season and appear from April-October in the south. Adult Imperial Moths do not feed. Banded Hairstreak (Satyrium calanus), which have one flight from June-August everywhere but Florida where they emerge April-May. Edward's Hairstreak (Satyrium edwardsii), has one flight from May-July in the south and June-July in the north. Gray Hairstreak (Strymon melinus), has three to four flights in the south from February-November and two flights in the north from May-September. White-M Hairstreak (Parrhasius m-album) has three broods in the north from February-October. Horace's Duskywing (Erynnis horatius) has three broods in Texas and the deep south from January-November, and two broods in the north from April-September. Juvenal's Duskywing (Erynnis juvenalis) has one brood from April-June, appearing as early as January in Florida. Mildly resistant to deer damage.

Edibility:

Acorns can be eaten after the tannin is leached or boiled out.

Dimensions:

Height: 60 ft. 0 in. - 80 ft. 0 in.

Width: 60 ft. 0 in. - 75 ft. 0 in.
Whole Plant Traits:

Plant Type:

Poisonous

Tree

Woody Plant Leaf Characteristics:

Deciduous

Habit/Form:

Erect

Open

Growth Rate:

Slow

Maintenance:

Medium

Texture:

Medium
Cultural Conditions:

Light:

Full sun (6 or more hours of direct sunlight a day)

Soil Texture:

Clay

Loam (Silt)

Sand

Soil Drainage:

Good Drainage

Moist

Occasionally Dry

NC Region:

Coastal

Mountains

Piedmont

USDA Plant Hardiness Zone:

5a, 5b, 6a, 6b, 7a, 7b, 8a, 8b
Fruit:

Fruit Color:

Brown/Copper

Display/Harvest Time:

Fall

Fruit Type:

Nut

Fruit Length:

< 1 inch

Fruit Width:

< 1 inch

Fruit Description:

The 5/8 inch brown acorn is round and two-thirds enclosed in the cup, which is densely covered in soft 'mossy' bristles. Matures in 2 years.
Flowers:

Flower Inflorescence:

Catkin

Insignificant

Flower Bloom Time:

Spring

Flower Description:

Male flowers appear as drooping catkins, female flowers in clusters.
Leaves:

Woody Plant Leaf Characteristics:

Deciduous

Leaf Color:

Green

White

Leaf Type:

Simple

Leaf Arrangement:

Opposite

Leaf Shape:

Lanceolate

Ovate

Leaf Margin:

Serrate

Hairs Present:

Yes

Leaf Length:

> 6 inches

Leaf Width:

1-3 inches

Leaf Description:

The 6-inch leaves are elongate with serrate margin and white pubescence on the underside. Each leaf has 13-18 pairs of parallel side veins each of which ends at the leaf margin in a tiny bristle-like tooth. Young trees hold their leaves into winter.
Bark:

Bark Color:

Light Gray

Surface/Attachment:

Ridges

Bark Description:

The yellowish-gray bark is thick and corky with deep fissures and marked by sinuous ridges
Stem:

Stem Color:

Brown/Copper

Gray/Silver

Green

Stem Is Aromatic:

No

Stem Bud Terminal:

Cluster of terminal buds

Stem Cross Section:

Round

Stem Surface:

Smooth (glabrous)

Stem Description:

Twigs are olive-brown to pale brown, almost hairless, somewhat shiny, becoming grey-brown with age.
Landscape:

Landscape Location:

Lawn

Woodland

Landscape Theme:

Butterfly Garden

Nighttime Garden

Pollinator Garden

Design Feature:

Shade Tree

Specimen

Street Tree

Attracts:

Butterflies

Moths

Pollinators

Resistance To Challenges:

Deer

Drought

Problems:

Problem for Horses