Polystichum setiferum
Common Name(s):
Phonetic Spelling

pol-IS-tick-um seh-TIH-fer-um

Description

The Hedge Fern or Soft Shield Ferns is a tufted evergreen in which its fronds curve outwards from the center of the plant, giving a whirlwind appearance when viewed from above.

It does best grown in part to full shade in fertile, moist, well-drained soil. Too much sun may cause the fronds yellow.

Cut down the fronds in February-March, before the new fronds emerge.

May remain evergreen in mild winter regions, otherwise semi-evergreen.

Most likely in the winter, crown rot may occur if the soil is not well-drained.

VIDEO Created by NC State Extension's Homegrown series featuring Mark Weathington, Director of JC Raulston Arboretum.

Profile Video:

See this plant in the following landscape:
Cultivars / Varieties:

Tags: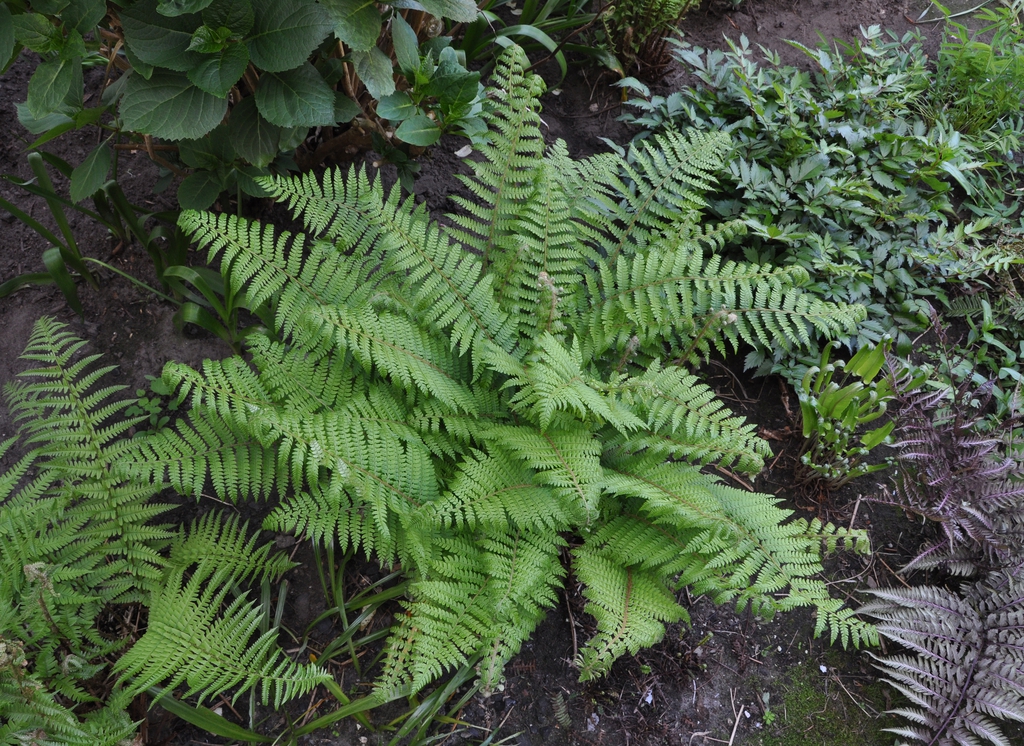 Cultivars / Varieties:

Tags:
Attributes:

Genus:

Polystichum

Species:

setiferum

Family:

Polypodiaceae

Life Cycle:

Perennial

Recommended Propagation Strategy:

Division

Country Or Region Of Origin:

Macaronesia, Mediterranean to Iran

Play Value:

Easy to Grow

Textural

Particularly Resistant To (Insects/Diseases/Other Problems):

Heavy shade, This plant is seldom damaged by deer.

Dimensions:

Height: 2 ft. 0 in. - 3 ft. 0 in.

Width: 2 ft. 0 in. - 3 ft. 0 in.
Whole Plant Traits:

Plant Type:

Fern

Herb

Perennial

Woody Plant Leaf Characteristics:

Broadleaf Evergreen

Habit/Form:

Arching

Clumping

Mounding

Growth Rate:

Medium

Maintenance:

Medium

Texture:

Fine
Cultural Conditions:

Light:

Dappled Sunlight (Shade through upper canopy all day)

Deep shade (Less than 2 hours to no direct sunlight)

Partial Shade (Direct sunlight only part of the day, 2-6 hours)

Soil Texture:

Clay

Loam (Silt)

Sand

Soil Drainage:

Good Drainage

Moist

Available Space To Plant:

12 inches-3 feet

NC Region:

Coastal

Piedmont

USDA Plant Hardiness Zone:

7b, 7a, 8a, 8b, 9a
Fruit:

Fruit Description:

No fruits. This plants reproduces via spores.
Flowers:

Flower Description:

No flowers.
Leaves:

Woody Plant Leaf Characteristics:

Broadleaf Evergreen

Leaf Color:

Green

Leaf Feel:

Soft

Leaf Value To Gardener:

Showy

Leaf Type:

Compound (Pinnately , Bipinnately, Palmately)

Fronds

Leaf Arrangement:

Other/more complex

Leaf Shape:

Lanceolate

Linear

Rhomboidal

Leaf Margin:

Dentate

Hairs Present:

No

Leaf Length:

> 6 inches

Leaf Description:

Tufted, drooping fronds; mat, light green blade; scaly stalk; short-stemmed pinnulae; soft texture; twice divided pinnae have stalked linear-lanceolate pinnules with soft bristly tips on margins.
Stem:

Stem Color:

Brown/Copper

Stem Is Aromatic:

No

Stem Description:

Stalks are covered with cinnamon-brown scales.
Landscape:

Landscape Location:

Container

Patio

Rock Wall

Woodland

Landscape Theme:

Cottage Garden

Rock Garden

Shade Garden

Winter Garden

Design Feature:

Accent

Border

Mass Planting

Small groups

Resistance To Challenges:

Deer

Heavy Shade

Rabbits