Phonetic Spelling

MOR-us AL-bah

This plant has low severity poison characteristics.

Description

Plants exude a milky sap from young twigs when broken. Male and female flowers form on separate plants. The fruits are relished by birds, but dropped fruit can cause maintenance issues such as staining concrete walkways, patios, and cars; be aware of where their canopy will extend when choosing the location to plant one of these trees. Many gardeners feel they have no place in the home landscape as a fruit or specimen tree. These trees can become weedy. Herbicides are not effective, the best management is to hand pull seedlings when young. Considered invasive in some parts of the country.

This plant may be seen in naturalized areas. It is resistant to drought and pollution, while also attracting songbirds.

Able to hybridize with the native red mulberry.

See this plant in the following landscape:
Cultivars / Varieties:

'Pendula'

Tags: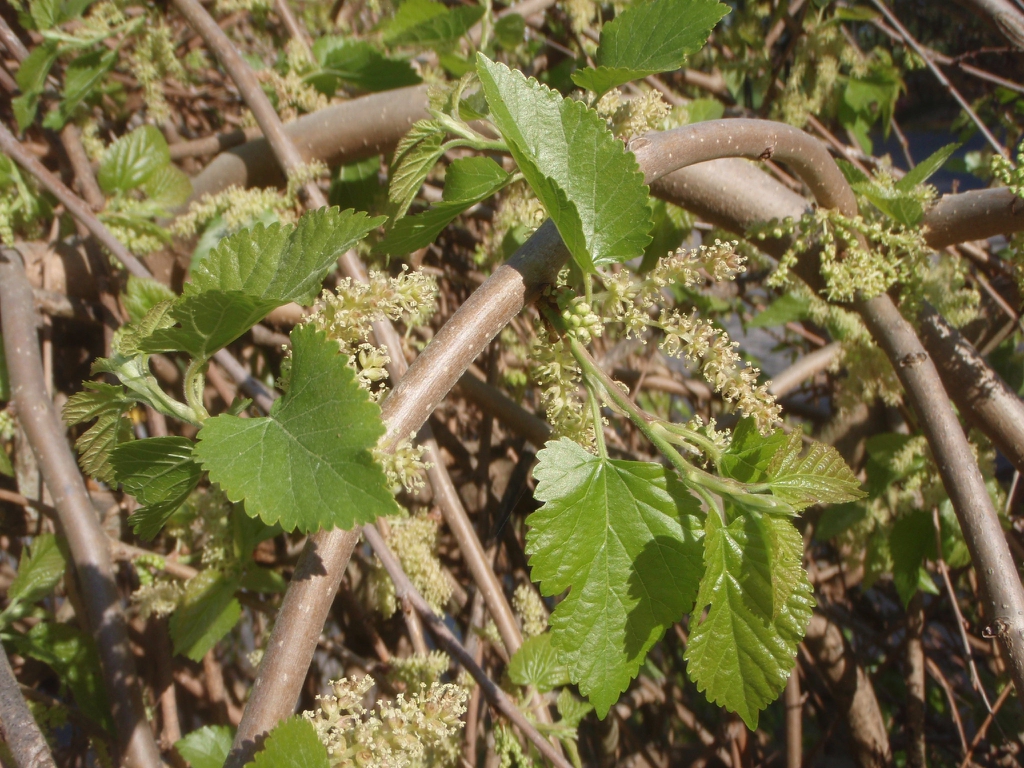 Cultivars / Varieties:

'Pendula'

Tags:
Attributes:

Genus:

Morus

Species:

alba

Family:

Moraceae

Uses (Ethnobotany):

Leaves are used to feed the silk worm

Life Cycle:

Woody

Country Or Region Of Origin:

China

Wildlife Value:

Birds love the fruit. Also eaten by Opossum, Raccoon, Fox Squirrel, and Gray Squirrel; White-Tailed Deer browse on the leaves and twigs, while beavers gnaw on the wood.

Edibility:

Ripe fruits are eaten raw or made into pies, jellies, and jams. Dried fruits can be added to bread, cookies, or puddings like raisins.

Dimensions:

Height: 30 ft. 0 in. - 60 ft. 0 in.

Width: 20 ft. 0 in. - 40 ft. 0 in.
Whole Plant Traits:

Plant Type:

Edible

Poisonous

Tree

Weed

Woody Plant Leaf Characteristics:

Deciduous

Habit/Form:

Rounded

Growth Rate:

Rapid

Maintenance:

High
Cultural Conditions:

Light:

Full sun (6 or more hours of direct sunlight a day)

Soil Texture:

Clay

Loam (Silt)

Sand

Soil pH:

Alkaline (>8.0)

Neutral (6.0-8.0)

Soil Drainage:

Good Drainage

Available Space To Plant:

12-24 feet

NC Region:

Coastal

Mountains

Piedmont

USDA Plant Hardiness Zone:

4a, 4b, 5a, 5b, 6a, 6b, 7a, 7b, 8a, 8b
Fruit:

Fruit Color:

Pink

Purple/Lavender

White

Fruit Value To Gardener:

Edible

Display/Harvest Time:

Fall

Fruit Type:

Berry

Fruit Description:

Clustered like a blackberry
Flowers:

Flower Color:

Green

Flower Inflorescence:

Catkin

Insignificant

Flower Bloom Time:

Spring

Flower Description:

Flowers small in a tight cluster
Leaves:

Woody Plant Leaf Characteristics:

Deciduous

Leaf Color:

Green

Leaf Feel:

Glossy

Smooth

Leaf Type:

Simple

Leaf Arrangement:

Alternate

Leaf Shape:

Ovate

Leaf Margin:

Crenate

Lobed

Serrate

Hairs Present:

No

Leaf Length:

3-6 inches

Leaf Width:

1-3 inches

Leaf Description:

Alternate, simple, toothed leaves, either unlobed, mitten-shaped, or 3-lobed, usually smooth above and hairless below
Bark:

Bark Color:

Dark Brown

Dark Gray

Surface/Attachment:

Ridges

Bark Description:

Trunk bark is usually greyish-brown with flattened ridges and shallow vertical furrows; on very old trees, the bark becomes gray and coarse with curving deep furrows.
Stem:

Stem Is Aromatic:

No
Landscape:

Problems:

Messy

Poisonous to Humans

Problem for Children

Weedy