Carya pallida
Common Name(s):
Description

Sand hickory is a large deciduous tree in the Juglandaceae (walnut) family growing slowly to 100 feet at maturity. It is native to the southeastern United States and often found in dry, sandy, or gravelly soils as the common name suggests. It can be found throughout North Carolina, especially the Sandhills region of the coastal plain. This tree has a straight trunk and a dense crown. The flowers are both male and female; male catkins, 3 to 4 inches long, and female flowers of similar size bloom in early spring season from March to May and range in color from yellow to green to brown. The Sand hickory nut is oval, dark-brown, and typically consumed by rodents, squirrels, and large birds.

Sand hickory prefers moist loam in a sunny sheltered position. This plant has a significant tap root and is difficult to transplant; it should be planted in its permanent position. These trees are relatively late coming into leaf and lose their leaves early in the autumn, but while the leaves are present, the trees cast a heavy shade making them suitable for planting as a shade tree or in a mixed woodland setting.

Diseases, Insect Pests, and Other Plant Problems:

Host plant of Microstroma juglandis a pathogen which can cause the fungal disease Downy Leaf Spot.

See this plant in the following landscape:
Cultivars / Varieties:

Tags: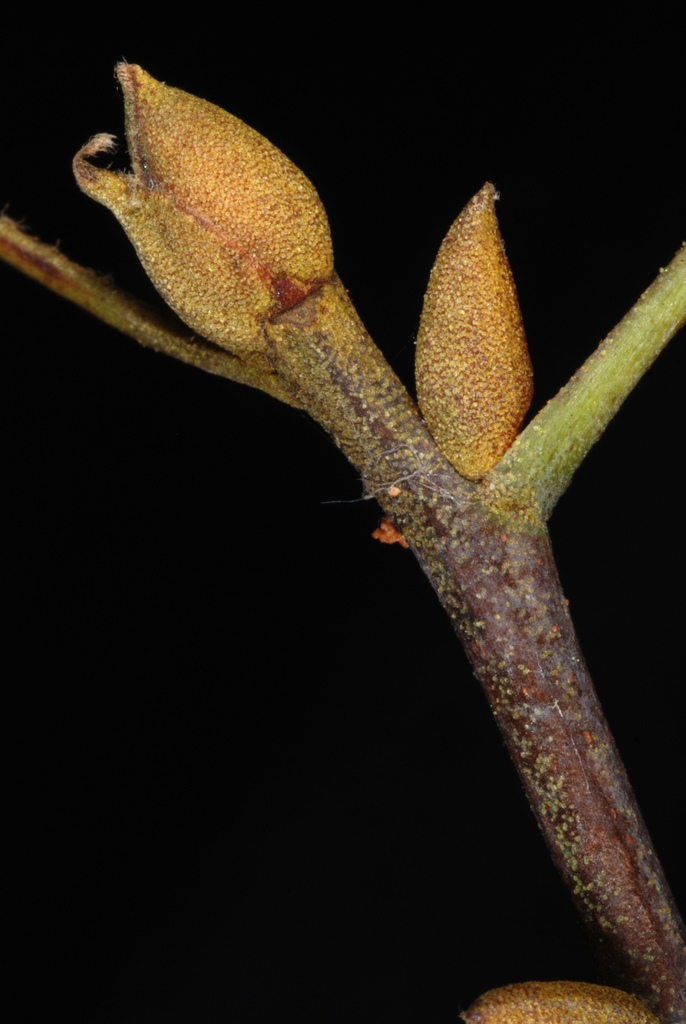 Cultivars / Varieties:

Tags:
Attributes:

Genus:

Carya

Species:

pallida

Family:

Juglandaceae

Uses (Ethnobotany):

The wood is heavy, hard, and tough and has been used for tool handles.

Life Cycle:

Perennial

Woody

Recommended Propagation Strategy:

Seed

Country Or Region Of Origin:

Eastern North America

Distribution:

Central and Southwestern United States, Southern Illinois to Oklahoma and Texas.

Wildlife Value:

The fruit is eaten by birds and squirrels.

Edibility:

The seed can be eaten, raw or cooked, and has a sweet flavor.
Whole Plant Traits:

Plant Type:

Native Plant

Tree

Woody Plant Leaf Characteristics:

Deciduous

Habit/Form:

Broad

Erect

Rounded

Growth Rate:

Slow

Maintenance:

Low

Texture:

Medium
Cultural Conditions:

Light:

Full sun (6 or more hours of direct sunlight a day)

Soil Texture:

Clay

Loam (Silt)

Sand

Soil pH:

Acid (<6.0)

Alkaline (>8.0)

Neutral (6.0-8.0)

Soil Drainage:

Good Drainage

Moist

Occasionally Dry

Available Space To Plant:

24-60 feet

more than 60 feet

NC Region:

Coastal

Mountains

Piedmont

USDA Plant Hardiness Zone:

5a, 5b, 6a, 6b, 7a, 7b, 8a, 8b, 9a, 9b
Fruit:

Fruit Color:

Brown/Copper

Gold/Yellow

Fruit Value To Gardener:

Edible

Display/Harvest Time:

Fall

Fruit Type:

Nut

Fruit Length:

1-3 inches

Fruit Width:

1-3 inches

Fruit Description:

Pear-shaped to round nut 3/4 to 1 1/2 inches wide, yellow when young, dark brown when mature in early fall. Rather thin-shelled, the seed is small and sweet and ripens in late autumn. When stored in its shell in a cool place, will keep for at least 6 months.
Flowers:

Flower Color:

Cream/Tan

Gold/Yellow

Green

Flower Inflorescence:

Catkin

Flower Bloom Time:

Spring

Flower Petals:

Bracts

Flower Size:

1-3 inches

Flower Description:

Moneceious male flowers catkins, female flowers in clusters at the tips of branches, appear in early to mid-spring. Stalks hirsute, scaly, bracts scaly, hirsute at apex; anthers hirsute.
Leaves:

Woody Plant Leaf Characteristics:

Deciduous

Leaf Color:

Green

Leaf Feel:

Rough

Leaf Value To Gardener:

Fragrant

Leaf Type:

Compound (Pinnately , Bipinnately, Palmately)

Leaf Arrangement:

Alternate

Leaf Shape:

Lanceolate

Ovate

Leaf Margin:

Serrate

Hairs Present:

Yes

Leaf Description:

Alternate, pinnately compound with 5 to 9 serrated, lance to ovate leaflets. Underside is pale, with silvery scales and pubesent. The leaves are spicily fragrant, similar to other tetraploid hickories of Carya.
Bark:

Bark Color:

Dark Gray

Surface/Attachment:

Furrowed

Ridges

Scaly

Smooth

Bark Plate Shape:

Diamond

Bark Description:

Smooth gray bark when young, forming deep furrows and scaly ridges with a diamond shape at maturity.
Stem:

Stem Color:

Brown/Copper

Red/Burgundy

Stem Is Aromatic:

No

Stem Buds:

Hairy

Stem Cross Section:

Round

Stem Form:

Straight

Stem Lenticels:

Conspicuous

Stem Surface:

Hairy (pubescent)

Stem Description:

Red brown to dark brown with light lenticles, stout branches but more slender than other hickories. Buds are oval shaped with silvery scales and hairs. Leaf scars are three lobed. Terminal buds reddish brown, sparsely to densely scaly; outer bud scales with coarse hairs on midribs.
Landscape:

Landscape Location:

Woodland

Landscape Theme:

Edible Garden

Design Feature:

Shade Tree