Other Common Name(s):
Phonetic Spelling

ES-kew-lus sil-VAT-ih-kah

This plant has high severity poison characteristics.

Description

Painted Buckeye is a small, deciduous tree that is native to the southeastern USA. In NC it is found in the Piedmont in mesic, nutrient-rich forests, on bottomlands, lower slopes, and in ravines. Also in the Coastal Plain primarily on floodplains and in the Mountains only at low elevations. It will grow 10-20 feet high in a shrub or tree form. It leafs out early in March-April with attractive palmate leaves that may start out reddish. It usually drops its leaves by September. Flowers are showy in upright clusters of usually greenish-yellow but sometimes pink or red.

It does best in sun to part shade in moist, well-drained soil and is intolerant of dry soils. Give this tree a moist but well-drained site and some afternoon shade in a woodland or naturalized area.

Insects, Diseases, or Other Plant Problems: Potential disease problems include powdery mildew, rust, and anthracnose. Potential insect problems including bagworms, Japanese beetles and borers. Leaf scorch (edges brown up) may occur in droughty conditions or on sites exposed to strong wind.
Cultivars / Varieties:

Tags: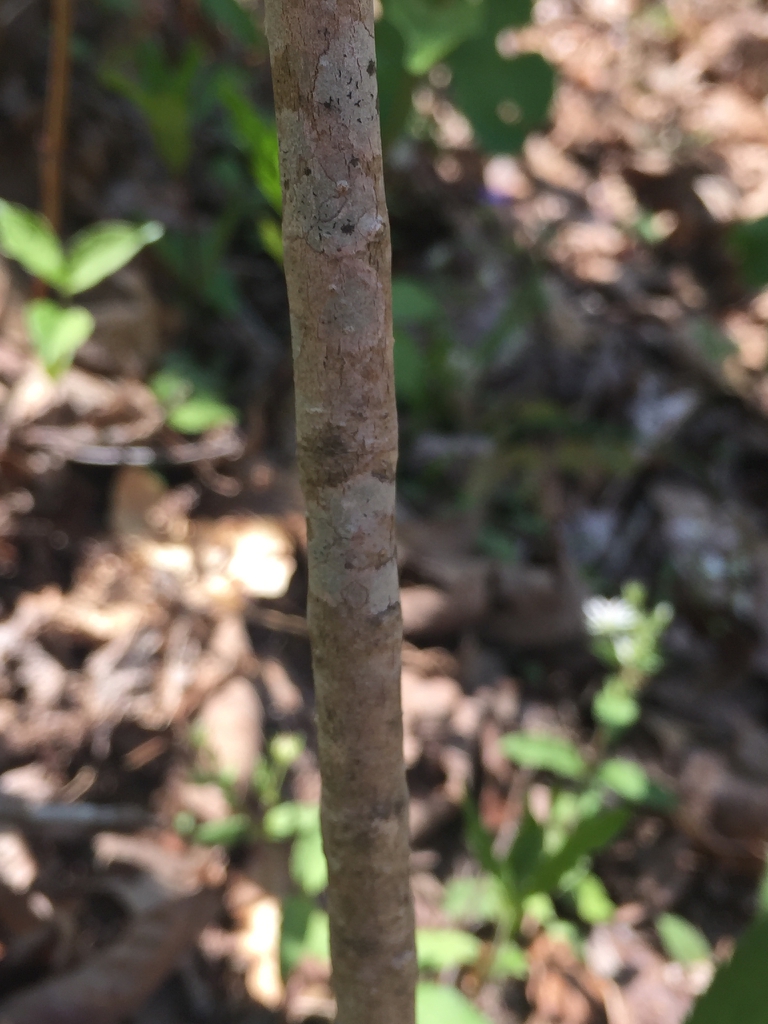 Cultivars / Varieties:

Tags:
Attributes:

Genus:

Aesculus

Species:

sylvatica

Family:

Sapindaceae

Life Cycle:

Woody

Country Or Region Of Origin:

Southeastern North America

Distribution:

AL, GA, NC, SC, TN, VA

Fire Risk Rating:

low flammability

Wildlife Value:

Hummingbirds feed on the nectar from the flowers in the spring. Squirrels eat the seeds. Attract butterflies. Moderately resistant to deer.

Play Value:

Attracts Pollinators

Wildlife Food Source

Dimensions:

Height: 10 ft. 0 in. - 20 ft. 0 in.

Width: 6 ft. 0 in. - 15 ft. 0 in.
Whole Plant Traits:

Plant Type:

Native Plant

Poisonous

Shrub

Tree

Leaf Characteristics:

Deciduous

Habit/Form:

Multi-stemmed

Open

Rounded

Growth Rate:

Medium

Maintenance:

Low

Texture:

Medium
Cultural Conditions:

Light:

Partial Shade (Direct sunlight only part of the day, 2-6 hours)

Soil Texture:

High Organic Matter

Soil Drainage:

Good Drainage

Moist

NC Region:

Coastal

Mountains

Piedmont

Usda Plant Hardiness Zone:

6b, 7a, 7b, 8a, 8b
Fruit:

Fruit Color:

Brown/Copper

Display/Harvest Time:

Summer

Fruit Type:

Capsule

Fruit Length:

1-3 inches

Fruit Width:

1-3 inches

Fruit Description:

Fruit is 1-1.5 inches, three-parted, smooth husk, containing usually 1 chestnut brown seed but up to 3. Mature in late summer.
Flowers:

Flower Color:

Cream/Tan

Gold/Yellow

Green

Pink

Red/Burgundy

Flower Inflorescence:

Panicle

Flower Value To Gardener:

Showy

Flower Bloom Time:

Spring

Flower Shape:

Bell

Flower Petals:

4-5 petals/rays

Flower Size:

1-3 inches

Flower Description:

Flowers occur in panicles 5-8 inches long and have both bisexual and male flowers in each cluster with male flowers located near the base. Bloom time starts March-April. Bell-shaped flowers are yellow, yellow-green, cream, pink or even red. Individual flowers are 1-1.5 inches long.
Leaves:

Leaf Characteristics:

Deciduous

Leaf Color:

Gold/Yellow

Green

Orange

Red/Burgundy

Leaf Value To Gardener:

Showy

Leaf Type:

Compound (Pinnately , Bipinnately, Palmately)

Leaf Arrangement:

Opposite

Leaf Shape:

Oblong

Obovate

Leaf Margin:

Serrate

Hairs Present:

Yes

Leaf Length:

3-6 inches

Leaf Description:

Palmately compound leaves have 5 leaflets that are oblong-obovate, 4-6 inches long, 1.5-2 inches wide and tapering at apex and base. They may open reddish and change to yellow-green with yellow to orange midveins and green undersides. Margins are serrated and sometimes doubly serrated. They are pubescent when young and smooth when mature. The tree leafs out early and drops its leaves early.
Bark:

Bark Color:

Light Brown

Light Gray

Surface/Attachment:

Smooth

Bark Description:

Its bark is a light gray-brown and smooth, mottled looking.
Stem:

Stem Color:

Brown/Copper

Gray/Silver

Stem Is Aromatic:

No

Stem Bud Terminal:

Only 1 terminal bud, larger than side buds

Stem Lenticels:

Conspicuous

Stem Description:

Stout, light brown or gray, with raised lenticels, large opposite shield-shaped leaf scars, large pointed orange-brown buds.
Landscape:

Landscape Location:

Lawn

Naturalized Area

Pond

Woodland

Landscape Theme:

Butterfly Garden

Native Garden

Pollinator Garden

Rain Garden

Design Feature:

Flowering Tree

Attracts:

Butterflies

Hummingbirds

Small Mammals

Resistance To Challenges:

Deer

Fire

Problems:

Poisonous to Humans
Poisonous to Humans:

Poison Severity:

High

Poison Symptoms:

Poisonous if ingested. Symptoms may include muscular weakness and paralysis, dilated pupils, vomiting, diarrhea, depression, paralysis, and stupor.

Poison Toxic Principle:

Glycoside aesculin, saponin aesin, possibly alkaloids

Causes Contact Dermatitis:

No

Poison Part:

Bark

Flowers

Fruits

Leaves

Sap/Juice

Seeds

Stems