Ilex x attenuata

'Savannah'
Common Name(s):
Phonetic Spelling

EYE-leks at-ten-yoo-AY-tuh

Description

Ilex x attenuata is an evergreen tree with foliage and fruits that make this an excellent choice for year-round interest. Production of its showy fruit is best when planted in full sun with protection from the hot afternoon summer sun. Ensure that good drainage is provided and choose a location where the plant will not be exposed to cold winter winds.

'Savannah' is a small tree cultivar that has a columnar to pyramidal form. Its pea-sized, red florescent fruit is noted as being especially showy through the fall and winter. Birds are attracted to the fruit. This showy, evergreen tree makes it a great choice for your landscape.

There are both male and female plants, the female will need a male nearby in order to produce fruit.

Insects, Diseases, and Other Plant Problems: May be affected by leaf spot, leaf rot, tar spot, and powdery mildew. There can also be issues with leaf drop, leaf scorch, and chlorosis. Insects can include holly leaf miner, spider mites, scale, whitefly, and spittlebugs.

See this plant in the following landscape:
Cultivars / Varieties:

Tags: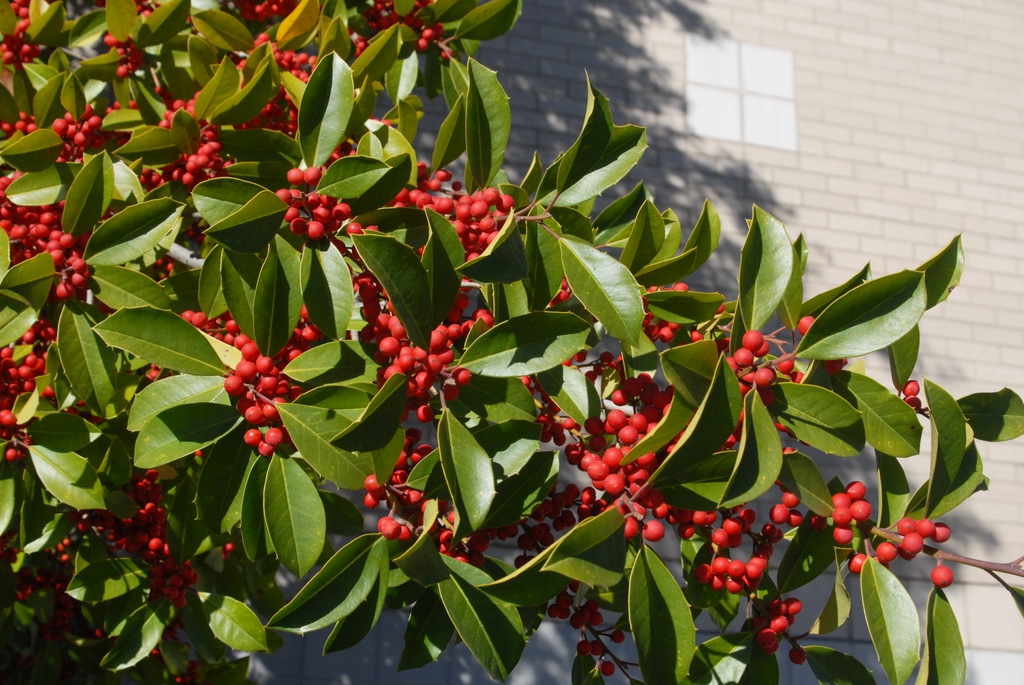 Cultivars / Varieties:

Tags:
Attributes:

Genus:

Ilex

Family:

Aquifoliaceae

Wildlife Value:

Fruits attract birds.

Play Value:

Colorful

Shade

Textural

Wildlife Food Source

Dimensions:

Height: 10 ft. 0 in. - 20 ft. 0 in.

Width: 8 ft. 0 in. - 15 ft. 0 in.
Whole Plant Traits:

Plant Type:

Tree

Habit/Form:

Columnar

Pyramidal

Maintenance:

Medium
Cultural Conditions:

Light:

Full sun (6 or more hours of direct sunlight a day)

Partial Shade (Direct sunlight only part of the day, 2-6 hours)

Soil pH:

Acid (<6.0)

Soil Drainage:

Good Drainage

Available Space To Plant:

6-feet-12 feet

12-24 feet

NC Region:

Coastal

Mountains

Piedmont

USDA Plant Hardiness Zone:

6b, 6a, 7b, 7a, 8b, 8a, 9b, 9a
Fruit:

Fruit Color:

Red/Burgundy

Fruit Value To Gardener:

Showy

Display/Harvest Time:

Fall

Winter
Flowers:

Flower Color:

Green

White

Flower Inflorescence:

Insignificant

Flower Bloom Time:

Spring

Flower Description:

The green-white flowers are inconspicuous.
Leaves:

Leaf Color:

Green

Leaf Shape:

Elliptical

Ovate

Hairs Present:

No

Leaf Length:

1-3 inches

Leaf Description:

Light green leaves are up to 4" long.
Bark:

Bark Color:

Light Gray
Stem:

Stem Is Aromatic:

No
Landscape:

Landscape Location:

Patio

Vertical Spaces

Walkways

Landscape Theme:

Winter Garden

Design Feature:

Hedge

Screen/Privacy

Small groups

Specimen

Attracts:

Songbirds

Resistance To Challenges:

Pollution

Problems:

Spines/Thorns