Other Common Name(s):
Phonetic Spelling

kar-feh-FOR-us pan-ick-yoo-LAY-tus

Description

Hairy Chaffhead is a native wildflower, herbaceous perennial in the aster family. It is typically found in meadows and flat wooded areas from North Carolina south to Florida and is fairly common in the southeastern coastal counties of North Carolina, but uncommon to the west and inland to the Sandhills. It has a single, densely hairy, stem from which it derives its common name and is a rapid grower, reaching its mature height of 3, and sometimes 6, feet through the spring into the summer. The Latin name refers to the arrangement of the flowers as a panicle on the flowering stalk which is unique in this genus.

Hairy Chaffhead grows best in moderate to fine textured moist soil, full sun, and requires a minimum of a 110 frost free days from when seeds are planted. It is not drought tolerant.

Diseases, Insect Pests, and Other Plant Problems:

No known diseases or insect pests.

See this plant in the following landscape:
Cultivars / Varieties:

Tags: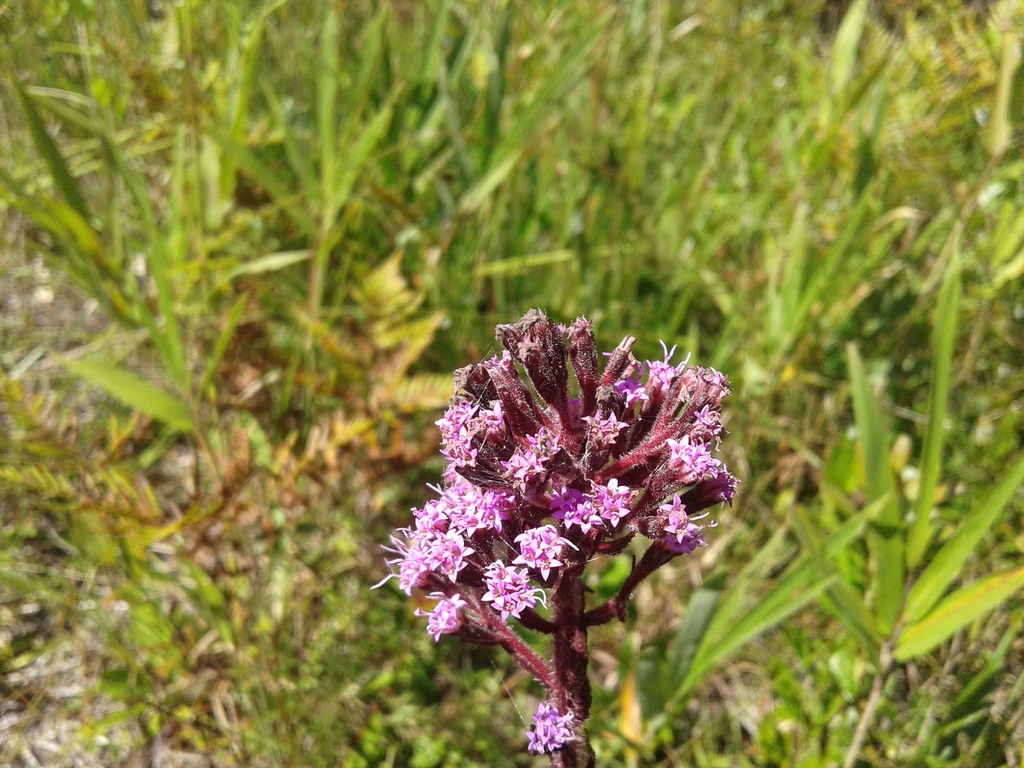 Cultivars / Varieties:

Tags:
Attributes:

Genus:

Carphephorus

Species:

paniculatus

Family:

Asteraceae

Life Cycle:

Perennial

Recommended Propagation Strategy:

Seed

Country Or Region Of Origin:

Southeastern U.S.A.

Distribution:

Alabama, Florida, Georgia, South and North Carolina

Wildlife Value:

Attracts bees and other pollinators.
Whole Plant Traits:

Plant Type:

Herbaceous Perennial

Native Plant

Wildflower

Woody Plant Leaf Characteristics:

Semi-evergreen

Habit/Form:

Erect

Growth Rate:

Rapid

Maintenance:

Low

Texture:

Fine
Cultural Conditions:

Light:

Full sun (6 or more hours of direct sunlight a day)

Soil Texture:

High Organic Matter

Loam (Silt)

Sand

Soil pH:

Neutral (6.0-8.0)

Soil Drainage:

Good Drainage

Moist

NC Region:

Coastal

Piedmont
Fruit:

Fruit Color:

Black

Display/Harvest Time:

Fall
Flowers:

Flower Color:

Pink

Purple/Lavender

Flower Inflorescence:

Panicle

Flower Value To Gardener:

Long Bloom Season

Showy

Flower Bloom Time:

Fall

Summer

Flower Size:

< 1 inch

Flower Description:

Blooms from early summer into the fall and winter. Individual flowers are small, but the sheer number of blooms makes for an impressive display where large colonies occur.
Leaves:

Woody Plant Leaf Characteristics:

Semi-evergreen

Leaf Color:

Green

Leaf Feel:

Smooth

Leaf Type:

Simple

Leaf Arrangement:

Alternate

Hairs Present:

No

Leaf Description:

Alternate basal veined leaves that are retained in the fall and winter.
Stem:

Stem Is Aromatic:

No
Landscape:

Landscape Location:

Meadow

Woodland

Landscape Theme:

Native Garden

Attracts:

Bees

Butterflies

Pollinators