Athyrium niponicum var. pictum
Common Name(s):
Previously known as:
Athyrium japonicum
Athyrium niponicum
Athyrium niponicum

'Pictum'

Deparia japonica
Phonetic Spelling

a-THEE-ree-um nip-PO-nih-kum PIK-tum

Description

Commonly known as Japanese painted fern, Athyrium nipponicum 'Pictum' slowly spreads by creeping rhizomes, forming a clump. It is easy to grow and not aggressive. Athyrium nipponicum 'Pictum' prefers partial shade and moist, rich soil, with high organic content. This plant has its best color when grown in light shade (excess sunlight washes out the color). As such it is a great addition as a front border plant in a shaded area or in a woodland or shade garden.

Insects, Diseases, and Other Plant Problems: No serious problems.

VIDEO Created by NC State Extension's Homegrown series featuring Mark Weathington, Director of JC Raulston Arboretum.

Profile Video:

See this plant in the following landscapes:
Cultivars / Varieties:

Tags: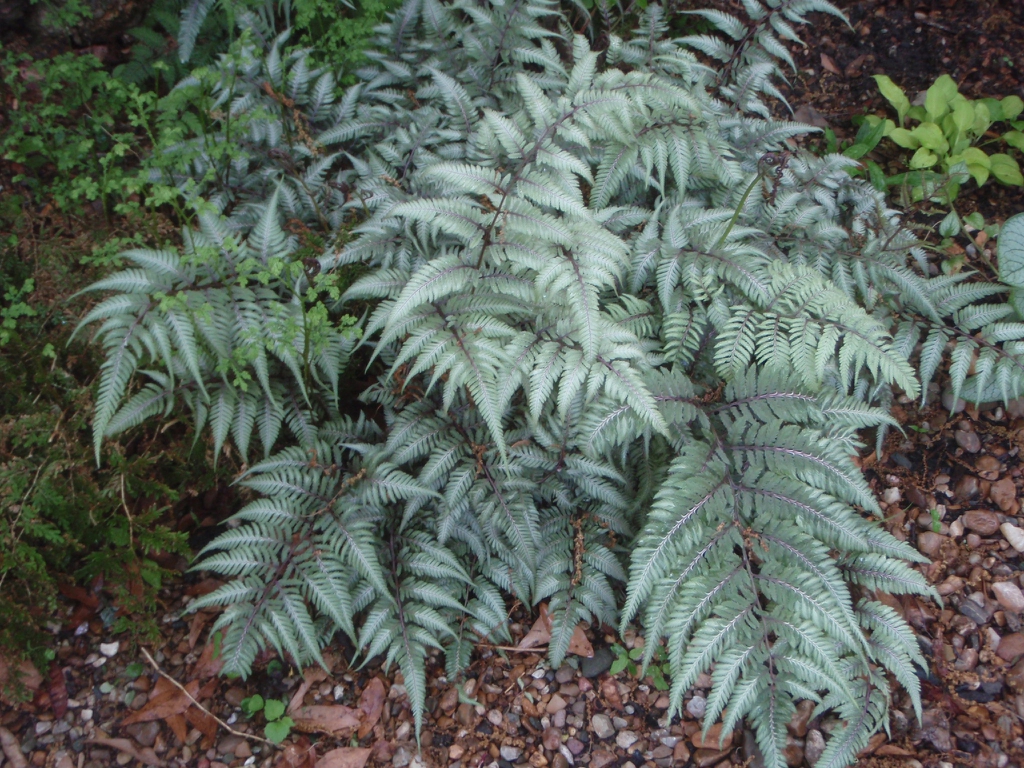 Cultivars / Varieties:

Tags:
Attributes:

Genus:

Athyrium

Species:

nipponicum

Family:

Athyriaceae

Life Cycle:

Perennial

Country Or Region Of Origin:

Eastern Asia

Particularly Resistant To (Insects/Diseases/Other Problems):

heavy shade; This plant is seldom damaged by deer.

Dimensions:

Height: 1 ft. 6 in. - 2 ft. 0 in.

Width: 1 ft. 6 in. - 2 ft. 0 in.
Whole Plant Traits:

Plant Type:

Fern

Woody Plant Leaf Characteristics:

Deciduous

Habit/Form:

Arching

Clumping

Vase

Maintenance:

Low
Cultural Conditions:

Light:

Dappled Sunlight (Shade through upper canopy all day)

Deep shade (Less than 2 hours to no direct sunlight)

Partial Shade (Direct sunlight only part of the day, 2-6 hours)

Soil Texture:

High Organic Matter

Soil Drainage:

Good Drainage

USDA Plant Hardiness Zone:

4a, 4b, 5b, 5a, 6a, 6b, 7a, 7b, 8b, 8a
Fruit:

Fruit Description:

No fruits. This plant reproduces via spores.
Flowers:

Flower Description:

No flowers.
Leaves:

Woody Plant Leaf Characteristics:

Deciduous

Leaf Color:

Gray/Silver

Green

Red/Burgundy

Leaf Value To Gardener:

Showy

Leaf Type:

Compound (Pinnately , Bipinnately, Palmately)

Fronds

Leaf Arrangement:

Rosulate

Leaf Shape:

Deltoid

Hairs Present:

No

Leaf Length:

> 6 inches

Leaf Description:

This plant has up to 20" tricolored fronds of maroon, medium green and silvery gray that are arching and in a vase-like form. The triangular blade is bipinnate to bipinnate-pinnatified. This plant produces new fronds throughout the growing season with the first fronds in spring being the most silvery.
Stem:

Stem Is Aromatic:

No
Landscape:

Landscape Location:

Pond

Woodland

Landscape Theme:

Shade Garden

Design Feature:

Border

Resistance To Challenges:

Deer

Heavy Shade

Rabbits