Other Common Name(s):
Phonetic Spelling

ah-GAH-sta-kee

Description

'Blue Boa' Giant Hyssop is a hybrid cultivar with deep purple-blue flowers in the mint family. It is a more compact variety, growing only 2.5 feet tall. The fragrant flowers and leaves are loved by a great variety of pollinators. You will love the long season of bloom from early summer to frost of tall spikes of purple-blue flowers.

Good drainage is important to these plants. Use raised beds or containers to provide the necessary drainage. Do not over-fertilize and plant in full sun for best results.

Use near the front of the perennial border and in rock gardens or containers and watch the pollinators flock to the flowers.

See this plant in the following landscape:
Cultivars / Varieties:

Tags: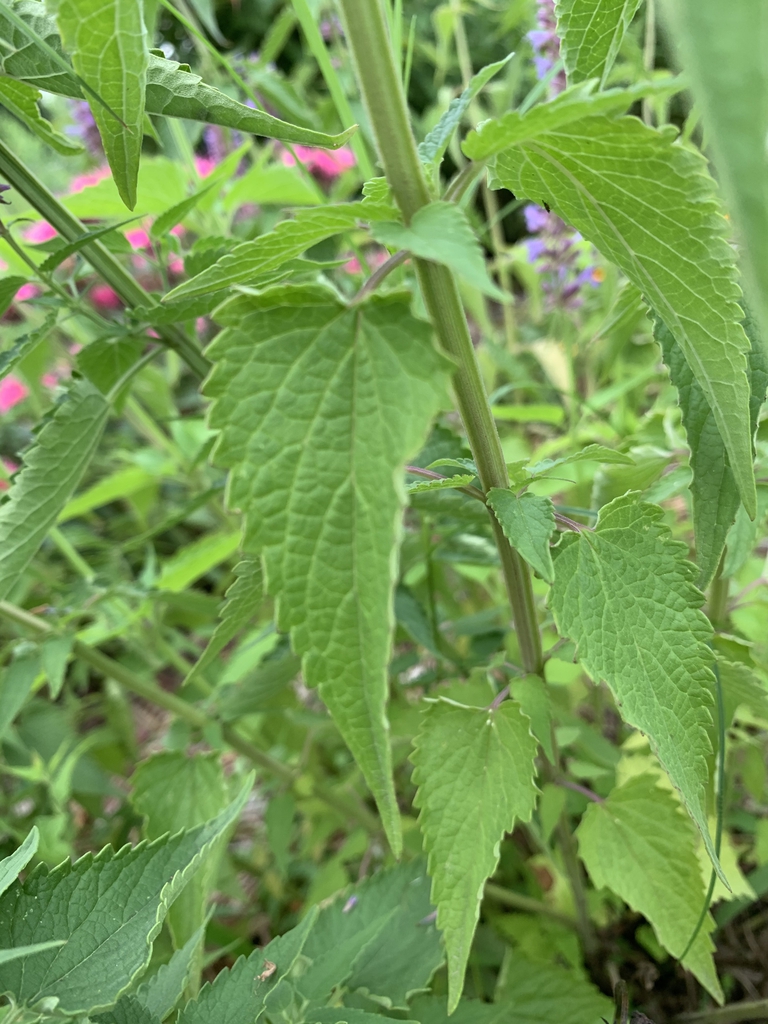 Cultivars / Varieties:

Tags:
Attributes:

Genus:

Agastache

Family:

Lamiaceae

Life Cycle:

Biennial

Country Or Region Of Origin:

SW USA

Dimensions:

Height: 2 ft. 0 in. - 2 ft. 6 in.

Width: 1 ft. 6 in. - 2 ft. 0 in.
Whole Plant Traits:

Plant Type:

Herbaceous Perennial

Perennial

Woody Plant Leaf Characteristics:

Deciduous

Habit/Form:

Clumping

Erect

Growth Rate:

Medium

Maintenance:

Low

Texture:

Medium
Cultural Conditions:

Light:

Full sun (6 or more hours of direct sunlight a day)

Soil Texture:

Loam (Silt)

Sand

Soil pH:

Alkaline (>8.0)

Neutral (6.0-8.0)

Soil Drainage:

Good Drainage

Occasionally Dry

NC Region:

Coastal

Mountains

Piedmont

USDA Plant Hardiness Zone:

5a, 5b, 6a, 6b, 7a, 7b, 8a, 8b
Fruit:

Display/Harvest Time:

Fall

Summer

Fruit Type:

Capsule
Flowers:

Flower Color:

Blue

Purple/Lavender

Flower Inflorescence:

Spike

Flower Value To Gardener:

Fragrant

Flower Bloom Time:

Fall

Summer

Flower Shape:

Tubular

Flower Size:

< 1 inch

Flower Description:

6-inch terminal spikes of dense lavender-blue flowers
Leaves:

Woody Plant Leaf Characteristics:

Deciduous

Leaf Color:

Green

Leaf Value To Gardener:

Fragrant

Leaf Type:

Simple

Leaf Arrangement:

Opposite

Leaf Margin:

Dentate

Serrate

Hairs Present:

No

Leaf Length:

1-3 inches

Leaf Width:

1-3 inches

Leaf Description:

Fragrant medium green leaves with serrated margins. Up to 2.5 inches long and 1.5 inches wide
Stem:

Stem Color:

Green

Stem Is Aromatic:

No

Stem Cross Section:

Square

Stem Description:

Square green stems
Landscape:

Landscape Theme:

Drought Tolerant Garden

Pollinator Garden

Design Feature:

Border

Attracts:

Pollinators

Resistance To Challenges:

Deer

Drought

Rabbits