Other Common Name(s):
Other plants called Helmet Flower:
Phonetic Spelling

skoot-ul-AIR-ee-uh in-teg-rih-FOE-lee-uh

Description

Helmet Skullcap is a perennial wildflower plant in the mint family. It has narrow, pointed leaves, with racemes of blue-purple flowers in late spring into summer.

It can typically be found in pine woods, low meadows, in forests, roadsides, and savannas.

See this plant in the following landscapes:
Cultivars / Varieties:

Tags: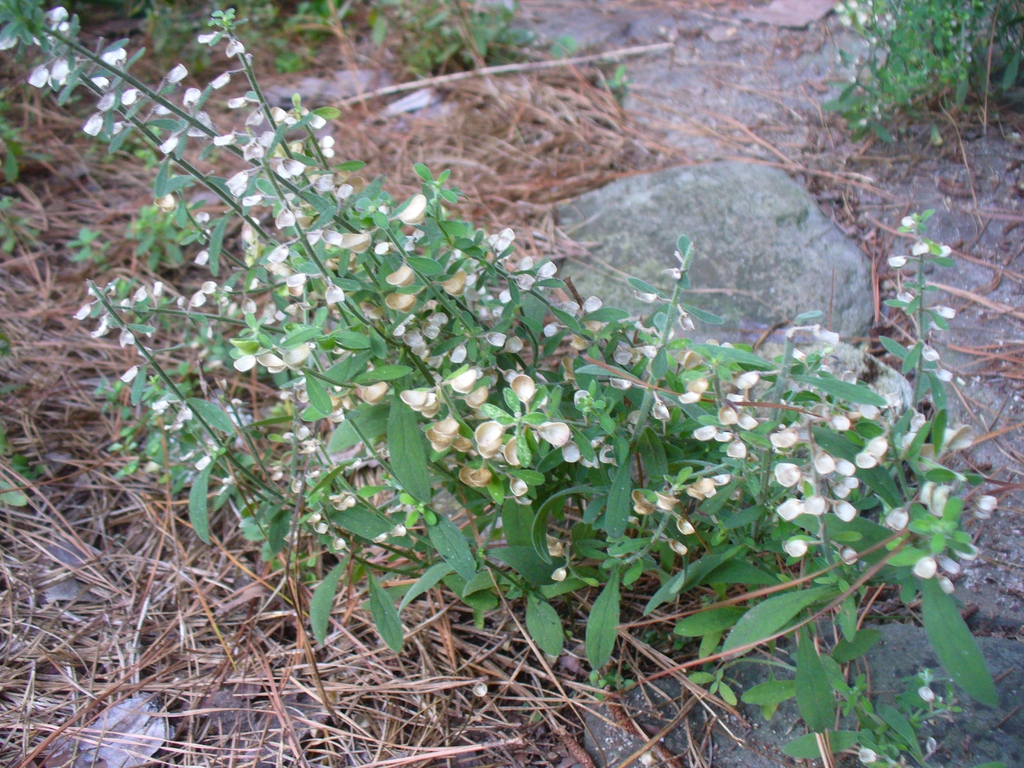 Cultivars / Varieties:

Tags:
Attributes:

Genus:

Scutellaria

Species:

integrifolia

Family:

Lamiaceae

Life Cycle:

Perennial

Country Or Region Of Origin:

Eastern U.S.A. to Texas

Dimensions:

Height: 1 ft. 4 in. - 1 ft. 8 in.

Width: 0 ft. 8 in. - 1 ft. 0 in.
Whole Plant Traits:

Plant Type:

Herbaceous Perennial

Native Plant

Wildflower

Habit/Form:

Erect
Cultural Conditions:

Light:

Full sun (6 or more hours of direct sunlight a day)

Soil Drainage:

Moist

Occasionally Dry

Available Space To Plant:

Less than 12 inches

NC Region:

Coastal

Mountains

Piedmont

USDA Plant Hardiness Zone:

6a, 6b, 7a, 7b, 8a, 8b, 9a, 9b
Fruit:

Display/Harvest Time:

Summer

Fruit Description:

Fruits are available July-August.
Flowers:

Flower Color:

Blue

Pink

Purple/Lavender

White

Flower Inflorescence:

Raceme

Flower Bloom Time:

Spring

Summer

Flower Shape:

Lipped

Flower Size:

1-3 inches

Flower Description:

This plant has 1" purplish-blue, two-lipped flowers, often whitish below. Flowers bloom May-July. The flowers have some hairs on them.
Leaves:

Leaf Color:

Green

Leaf Type:

Simple

Leaf Arrangement:

Opposite

Leaf Shape:

Linear

Obovate

Ovate

Leaf Margin:

Entire

Hairs Present:

No

Leaf Length:

1-3 inches

Leaf Description:

Leaves near the top are 1-2", narrow, untoothed and stalkless, while the lower leaves are slender stalked, egg-shaped, and toothed. Some of the top leaves have hairs, but the majority of leaves are not hairy.
Stem:

Stem Color:

Green

Stem Is Aromatic:

No

Stem Form:

Straight

Stem Surface:

Hairy (pubescent)

Stem Description:

Pubescent stem
Landscape:

Landscape Theme:

Native Garden

Pollinator Garden

Attracts:

Bees

Moths

Pollinators

Songbirds