Fargesia rufa

'Green Panda'
Common Name(s):
Description

'Green Panda' is a cultivar clumping bamboo in the Poaceae (grass) family and is native to China. Clumping bamboos are not invasive as are the ones with running roots. This plant grows 6-10 feet tall and wide, rarely flowers and has a vase shape with arching stems. It is evergreen, cold hard, heat tolerant, drought tolerant and deer resistant.

"Green Panda' does best with some protection from the hot afternoon sun and cold winter winds. It prefers fertile, moist, well-drained soils in part shade but will tolerate full sun and average well-drained garden soils. Being evergreen, it makes a good hedge for a privacy screen. You can also use this plant in containers and around paved areas such as patios and pools.

Insects, Diseases, and Other Plant Problems: No significant problems.

VIDEO created by Andy Pulte for "Landscape Plant Identification, Taxonomy and Morphology" a plant identification course offered by the Department of Plant Sciences, University of Tennessee.

Profile Video:

See this plant in the following landscape:
Cultivars / Varieties:

Tags: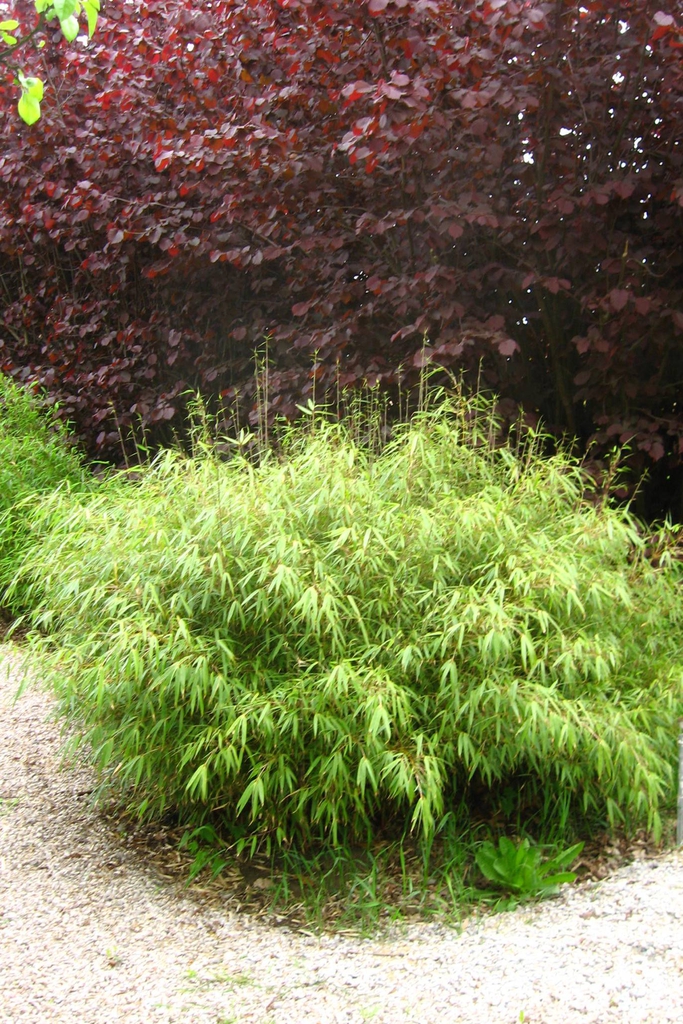 Cultivars / Varieties:

Tags:
Attributes:

Genus:

Fargesia

Species:

rufa

Family:

Poaceae

Life Cycle:

Perennial

Recommended Propagation Strategy:

Division

Country Or Region Of Origin:

China

Dimensions:

Height: 6 ft. 0 in. - 10 ft. 0 in.

Width: 6 ft. 0 in. - 10 ft. 0 in.
Whole Plant Traits:

Habit/Form:

Arching

Clumping

Dense

Vase

Growth Rate:

Rapid

Maintenance:

Low

Texture:

Medium
Cultural Conditions:

Light:

Full sun (6 or more hours of direct sunlight a day)

Partial Shade (Direct sunlight only part of the day, 2-6 hours)

Soil Texture:

Clay

Loam (Silt)

Soil pH:

Acid (<6.0)

Neutral (6.0-8.0)

Soil Drainage:

Good Drainage

Moist

NC Region:

Mountains

Piedmont

USDA Plant Hardiness Zone:

5a, 5b, 6a, 6b, 7a, 7b, 8a, 8b
Flowers:

Flower Description:

Rarely flowers
Leaves:

Leaf Color:

Gray/Silver

Green

Leaf Value To Gardener:

Long-lasting

Leaf Type:

Sheath

Leaf Shape:

Linear

Leaf Margin:

Entire

Hairs Present:

No

Leaf Length:

3-6 inches

Leaf Width:

1-3 inches

Leaf Description:

Leaves are green above and gray-green on the undersurface and grow to 4 inches long. New growth has a rusty red sheath.
Stem:

Stem Is Aromatic:

No
Landscape:

Landscape Location:

Container

Patio

Pool/Hardscape

Landscape Theme:

Asian Garden

Winter Garden

Design Feature:

Hedge

Mass Planting

Screen/Privacy

Resistance To Challenges:

Deer

Drought