Daphniphyllum macropodum
Phonetic Spelling

daf-ne-FILL-um mak-roh-POH-dum

Description

An evergreen shrub in a haystack form with alternate, simple, leathery, lustrous, dark green leaves; 5-10 in. long with red petioles and silvery gray on the underside. Contains fragrant, pale green flowers in summer with 0.3 in. bluish black drupes on female plants. Prefers light shade in well-drained soil rich in organic matter.

VIDEO created by Andy Pulte for "Landscape Plant Identification, Taxonomy and Morphology" a plant identification course offered by the Department of Plant Sciences, University of Tennessee.

Profile Video:

See this plant in the following landscape:
Cultivars / Varieties:

Tags: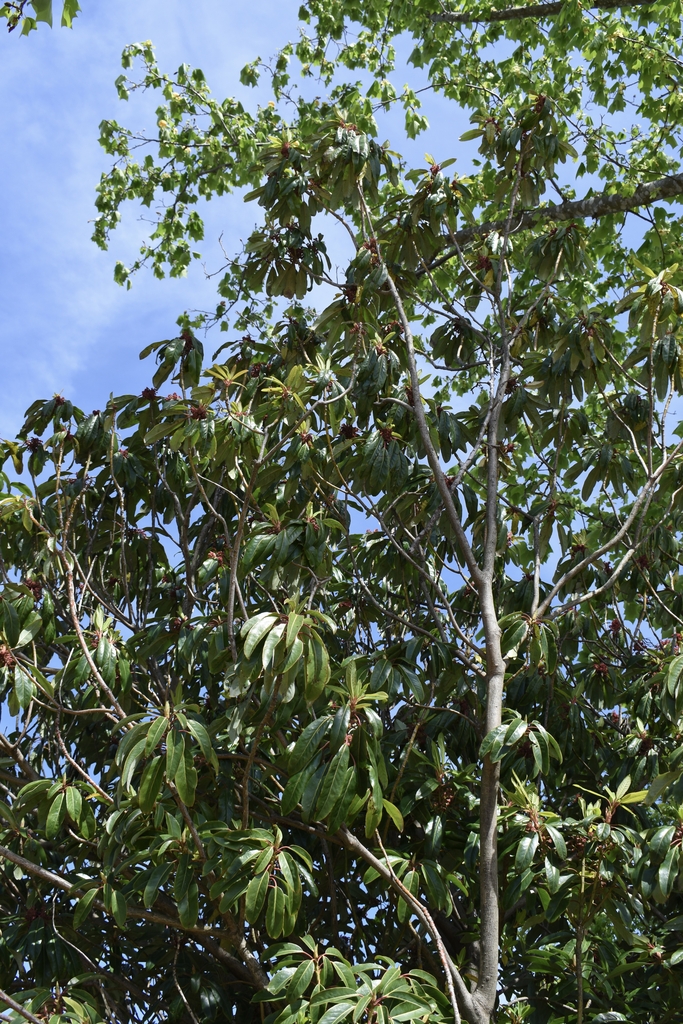 Cultivars / Varieties:

Tags:
Attributes:

Genus:

Daphniphyllum

Species:

macropodum

Family:

Daphniphyllaceae

Life Cycle:

Woody

Country Or Region Of Origin:

South China, South Korea Islands to Temp. Eastern Asia

Dimensions:

Height: 15 ft. 0 in. - 25 ft. 0 in.

Width: 15 ft. 0 in. - 25 ft. 0 in.
Whole Plant Traits:

Plant Type:

Shrub

Habit/Form:

Erect

Rounded

Maintenance:

Medium

Texture:

Medium
Cultural Conditions:

Light:

Full sun (6 or more hours of direct sunlight a day)

Partial Shade (Direct sunlight only part of the day, 2-6 hours)

Soil Texture:

High Organic Matter

Soil Drainage:

Good Drainage

Moist

Available Space To Plant:

24-60 feet

USDA Plant Hardiness Zone:

7a, 7b, 8a, 8b, 9a, 9b
Fruit:

Fruit Color:

Black

Blue

Fruit Value To Gardener:

Showy

Fruit Type:

Drupe

Fruit Length:

< 1 inch

Fruit Description:

0.3 in. bluish black drupes on female plants
Flowers:

Flower Color:

Green

Pink

Purple/Lavender

Flower Inflorescence:

Insignificant

Flower Value To Gardener:

Fragrant

Flower Bloom Time:

Spring

Summer

Flower Description:

Fragrant, pale green flowers in summer with 0.3 in. bluish black drupes on female plants
Leaves:

Leaf Color:

Gold/Yellow

Gray/Silver

Green

Leaf Feel:

Glossy

Leathery

Leaf Type:

Simple

Leaf Arrangement:

Alternate

Leaf Shape:

Lanceolate

Oblong

Leaf Margin:

Entire

Hairs Present:

No

Leaf Length:

> 6 inches

Leaf Width:

1-3 inches

Leaf Description:

Alternate, simple, leathery, lustrous, dark green leaves, 3-8 in. long with red petioles and silvery gray underside
Bark:

Bark Color:

Dark Brown

Bark Plate Shape:

Round
Stem:

Stem Color:

Green

Red/Burgundy

Stem Is Aromatic:

No

Stem Cross Section:

Round

Stem Form:

Straight
Landscape:

Landscape Location:

Naturalized Area

Woodland

Landscape Theme:

Shade Garden

Design Feature:

Border

Hedge

Specimen

Resistance To Challenges:

Deer