Other Common Name(s):
Phonetic Spelling

sip-rih-PEE-dee-um kal-KEE-oh-lus

This plant has medium severity poison characteristics.

Description

Yellow lady slipper was first described in Germany in 1753, then later scientifically classified by Swedish botanist Carl Linnaeus. The Latin translation for calceolus is 'little shoe', referring to the shape of the labellum (lip). The labellum is the part of the flower of an orchid that serves to attract insects, which pollinate the flower, and acts as their landing platform.

Arising from a rhizome, yellow lady slipper is a perennial wildflower found in mesic and seepy forests as well as other habitats. It is one of the largest of the orchid varieties in its range.

Each plant will produce 1 or 2 blooms. They vary in color from reddish-brown to black, and occasionally green.

It can be difficult to transplant. This plant needs deep, organic soil to thrive. It is one of the easiest native orchids to maintain in a woodland garden. "Nursery-grown" plants of this type are often poached from the wild, so verify that the plants are nursery propagated before purchasing one. This plant is considered an NC Significantly Rare species.

Although not classified as endangered, climate change and human encroachment on this plant's habitats place some risks for this plant's future in the wild. Adjusting for these hindrances, the plant has adapted to other environments, including locations where humus is present and over areas consisting of a limestone base. It is also frequently found in the proximity of hazel trees.

Insects, Diseases, and Other Plant Problems: Slugs and snails frequent the plant as a food source. It is difficult to grow from seed, it can take years for the plant to be large enough to flower.

See this plant in the following landscape:
Cultivars / Varieties:

Tags: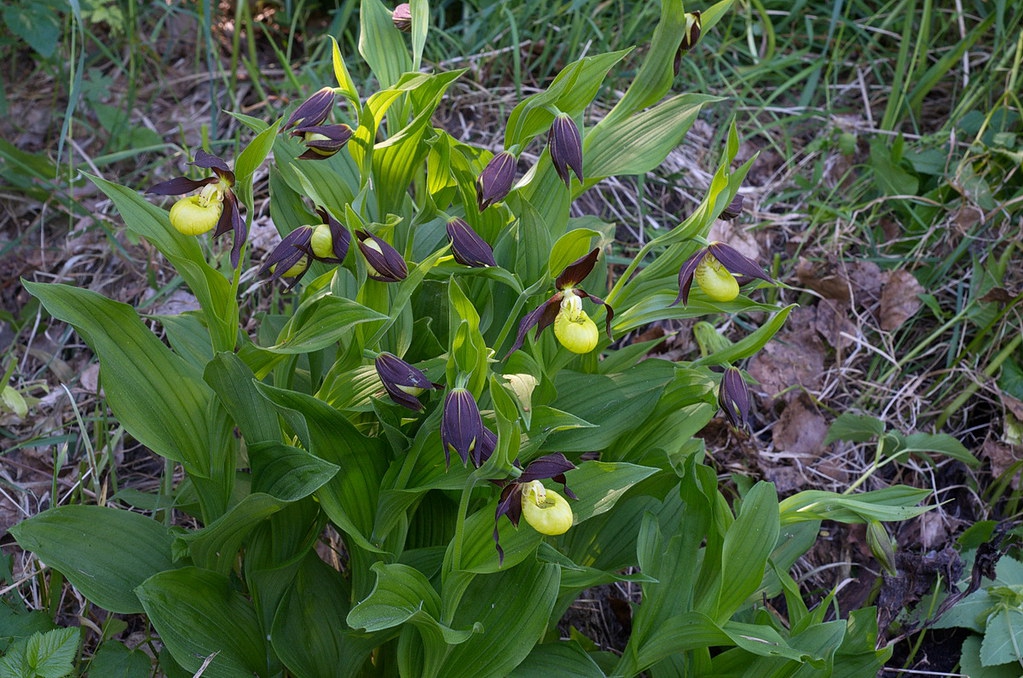 Cultivars / Varieties:

Tags:
Attributes:

Genus:

Cypripedium

Species:

calceolus

Family:

Orchidaceae

Uses (Ethnobotany):

Wildflower

Life Cycle:

Perennial

Recommended Propagation Strategy:

Division

Country Or Region Of Origin:

Europe and Russia

Wildlife Value:

Bees are the main source of pollination.

Play Value:

Attractive Flowers

Attracts Pollinators

Colorful

Dimensions:

Height: 0 ft. 10 in. - 2 ft. 0 in.

Width: 1 ft. 0 in. - 1 ft. 4 in.
Whole Plant Traits:

Plant Type:

Poisonous

Wildflower

Habit/Form:

Clumping

Erect

Growth Rate:

Slow

Maintenance:

Medium

Texture:

Medium
Cultural Conditions:

Light:

Partial Shade (Direct sunlight only part of the day, 2-6 hours)

Soil Texture:

High Organic Matter

Soil pH:

Acid (<6.0)

Neutral (6.0-8.0)

Soil Drainage:

Good Drainage

Moist

Occasionally Dry

Available Space To Plant:

12 inches-3 feet

NC Region:

Coastal

Mountains

Piedmont

USDA Plant Hardiness Zone:

3a, 3b, 4a, 4b, 5a, 5b, 6a, 6b, 7a, 7b, 8a, 8b
Fruit:

Display/Harvest Time:

Summer

Fruit Type:

Capsule

Fruit Description:

Fruits are capsules with many minute seeds, visible July-August.
Flowers:

Flower Color:

Gold/Yellow

Pink

White

Flower Inflorescence:

Head

Solitary

Flower Value To Gardener:

Showy

Flower Bloom Time:

Spring

Summer

Flower Shape:

Cross

Flower Petals:

2-3 rays/petals

Flower Size:

1-3 inches

Flower Description:

The lower yellow petal of each flower is inflated to form a 1-1.5 in. pouch. The long, slender petals are twisted to form a spiral. Blooming occurs from April to June.
Leaves:

Leaf Color:

Green

Leaf Feel:

Smooth

Leaf Value To Gardener:

Showy

Leaf Type:

Simple

Leaf Arrangement:

Alternate

Leaf Shape:

Elliptical

Ovate

Leaf Margin:

Entire

Leaf Length:

> 6 inches

Leaf Width:

3-6 inches

Leaf Description:

The large pleated leaves form in an alternating fashion along the stem. Each stem will have 3 to 4 leaves with lengths over 6".
Stem:

Stem Color:

Green

Stem Is Aromatic:

No

Stem Form:

Straight
Landscape:

Landscape Location:

Slope/Bank

Woodland

Landscape Theme:

Native Garden

Pollinator Garden

Design Feature:

Border

Mass Planting

Attracts:

Bees

Small Mammals