Cirsium altissimum
Common Name(s):
Description

Tall thistle is a wildflower that is native to the eastern half of the USA in the aster (Asteraceae) family. It can be found in both disturbed and undisturbed sites, This plant is a biennial or short-lived perennial that forms a rosette of leaves about 1 foot across the first year and blooms the second year. The bloom stem can be 3-10 feet tall depending on conditions and the amount of sunshine.

The basal leaves have spines along the margins with a few hairs and are more deeply pinnatifid than stem leaves. During the second year, the tough hairy stems appear with alternate leaves that have hairs on the upper surface and are densely hairy on the underside. These leaves vary in shape and can have lobed, entire or toothed margins. There is generally a spine at the point of the lobes or the teeth.

Late summer into fall the individual flower heads appear with pink to purple disc flowers that are about 2 inches across. Many pollinators are attracted to the abundant nectar this plant produces. After blooming the seed heads are formed with long hairs that are wind-dispersed. The plant then turns brown and withers.

Tall thistle prefers full sun to light shade and is more shade tolerant than other thistles. It tolerates both dry and moist sites and prefers a fertile well-drained sandy or clay loam. Unlike non-native thistles, this plant doesn't become weedy and can make a wonderful addition to the native pollinator garden. Use tall thistle at the edge of forests, in naturalized areas, in meadows and pond margins. It reproduces by seed.

Non-native thistles generally bloom in spring and have more spines.

Insects, Diseases, and Other Plant Problems: No significant problems.

See this plant in the following landscape:
Cultivars / Varieties:

Tags: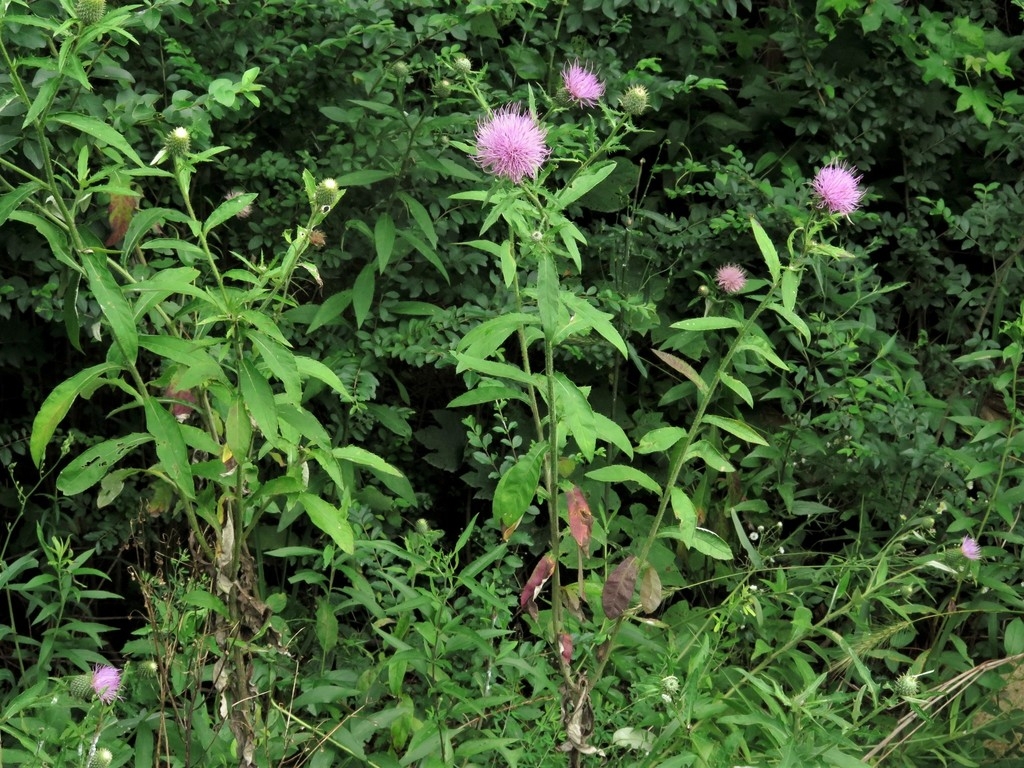 Cultivars / Varieties:

Tags:
Attributes:

Genus:

Cirsium

Species:

altissimum

Family:

Asteraceae

Life Cycle:

Biennial

Country Or Region Of Origin:

North America

Distribution:

Alabama, Arkansas, Delaware, District of Columbia, Florida, Georgia, Illinois, Indiana, Iowa, Kansas, Kentucky, Louisiana, Maryland, Massachusetts, Michigan, Minnesota, Mississippi, Missouri, Nebraska, New York, North Carolina, North Dakota, Ohio, Oklahoma, Pennsylvania, South Carolina, South Dakota, Tennessee, Texas, West Virginia, Wisconsin

Wildlife Value:

Many bees, butterflies and moths are attracted to the nectar. The caterpillars of two butterflies, Calephelis muticum (Swamp Metalmark) and Vanessa cardui (Painted Lady) use it as a host plant. Songbirds will eat the seeds.

Dimensions:

Height: 3 ft. 0 in. - 10 ft. 0 in.

Width: 1 ft. 0 in. - 2 ft. 0 in.
Whole Plant Traits:

Plant Type:

Native Plant

Wildflower

Habit/Form:

Erect

Growth Rate:

Medium

Maintenance:

Low

Texture:

Coarse

Appendage:

Spines
Cultural Conditions:

Light:

Full sun (6 or more hours of direct sunlight a day)

Partial Shade (Direct sunlight only part of the day, 2-6 hours)

Soil Texture:

Clay

Loam (Silt)

Sand

Soil pH:

Acid (<6.0)

Alkaline (>8.0)

Neutral (6.0-8.0)

Soil Drainage:

Good Drainage

Moist

Occasionally Dry

NC Region:

Coastal

Mountains

Piedmont

USDA Plant Hardiness Zone:

3a, 3b, 4a, 4b, 5a, 5b, 6a, 6b, 7a, 7b, 8a, 8b, 9a, 9b
Fruit:

Display/Harvest Time:

Fall

Fruit Type:

Achene

Fruit Description:

The bullet-shaped achenes have tufts of cottony white hairs. They are wind-dispursed.
Flowers:

Flower Color:

Pink

Purple/Lavender

Flower Inflorescence:

Head

Flower Value To Gardener:

Good Cut

Showy

Flower Bloom Time:

Fall

Summer

Flower Shape:

Tubular

Flower Petals:

4-5 petals/rays

Flower Size:

1-3 inches

Flower Description:

Flowers have disc florets only and are up to 2 inches across. Colors are pink to purple and rarely white. Each small tubular floret has 5 slender petals. The base of the inflorescence has overlapping scales. Bloom time is late summer to fall and last 30-45 days.
Leaves:

Leaf Color:

Green

Leaf Type:

Simple

Leaf Arrangement:

Alternate

Rosulate

Leaf Shape:

Elliptical

Lanceolate

Oblanceolate

Leaf Margin:

Dentate

Entire

Lobed

Hairs Present:

Yes

Leaf Length:

> 6 inches

Leaf Width:

1-3 inches

Leaf Description:

Basal leaves are green, 6 inches long and deeply pinnatifid. Stem leaves are up to 9 inches long and 3 inches across. They are generally larger on the lower stem. Shape varies greatly and can be lanceolate, oblanceolate, or elliptic. Margins can be lobed, dentate of entire. Spines are present on the lobes and the underside is densely hairy giving it a white appearance.
Stem:

Stem Color:

Brown/Copper

Green

Red/Burgundy

Stem Is Aromatic:

No

Stem Cross Section:

Round

Stem Surface:

Hairy (pubescent)

Stem Description:

Stems are light green to reddish brown with longitudinal ridges and densely hairy. They are sparsely branched.
Landscape:

Landscape Location:

Meadow

Naturalized Area

Pond

Slope/Bank

Woodland

Landscape Theme:

Butterfly Garden

Cottage Garden

Cutting Garden

Drought Tolerant Garden

Native Garden

Pollinator Garden

Design Feature:

Border

Small groups

Attracts:

Bees

Butterflies

Moths

Pollinators

Songbirds

Resistance To Challenges:

Deer

Drought

Problems:

Spines/Thorns