Phonetic Spelling

AY-ser PIK-tum mon-oh

Description

Painted maple is a deciduous tree in the Sapindaceae (soapberry) family that typically grows to 30-40' (less frequently to 60') tall with a rounded spreading crown. It is native to forests in Japan, China, Korea, Mongolia, and Eastern Russia. It sometimes grows in a shrubby form.

Variable leaves (3-6" long) have 5-7 triangular lobes. Leaves emerge with bronze tints in spring, mature to bright green by summer and turn attractive shades of yellow and orange in fall. Leaf stems exude a milky sap when cut. Greenish-yellow flowers appear in April-May in upright clusters (umbels). As with most maples, the flowers are not showy. Fruit is a samara (to 1.5" long). This tree is quite hardy in cold temperatures.

Easily grown in average, medium moisture, well-drained soils in full sun to part shade. Prefers evenly moist, acidic soils with good drainage in part shade.

Insects, Diseases, and Other Plant Problems: No serious problems. See potential insect and disease problem fact sheets to the left.

The Clemson Cooperative Extension Home and Garden Information Center has a factsheet on common maple diseases and insect pests.

See this plant in the following landscape:
Cultivars / Varieties:

Tags: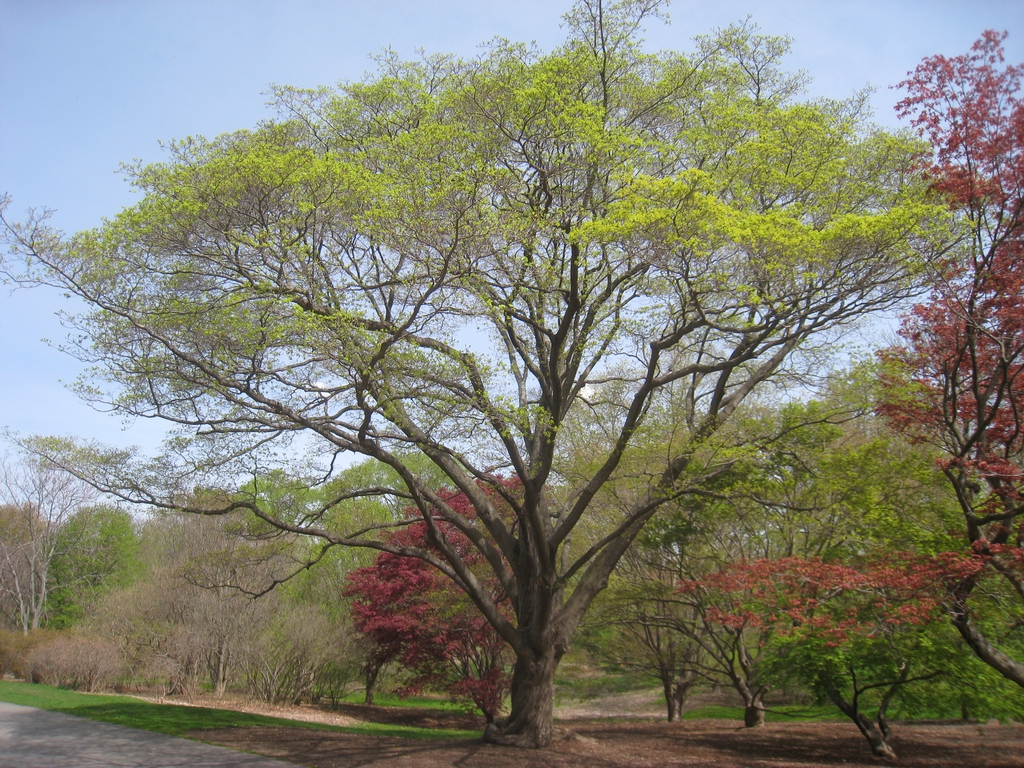 Cultivars / Varieties:

Tags:
Attributes:

Genus:

Acer

Species:

pictum subsp. mono

Family:

Sapindaceae

Life Cycle:

Woody

Recommended Propagation Strategy:

Seed

Stem Cutting

Country Or Region Of Origin:

Forests in Japan, China, Korea, Mongolia and Eastern Russia

Wildlife Value:

Members of the genus Acer support Imperial Moth (Eacles imperialis) larvae which have one brood per season and appear from April-October in the south. Adult Imperial Moths do not feed.
Whole Plant Traits:

Plant Type:

Shrub

Tree

Woody Plant Leaf Characteristics:

Deciduous

Habit/Form:

Rounded

Spreading

Vase

Growth Rate:

Rapid

Texture:

Medium
Cultural Conditions:

Light:

Full sun (6 or more hours of direct sunlight a day)

Partial Shade (Direct sunlight only part of the day, 2-6 hours)

Soil pH:

Acid (<6.0)

Soil Drainage:

Good Drainage

Moist

USDA Plant Hardiness Zone:

5a, 5b, 6a, 6b, 7a, 7b, 8a, 8b
Fruit:

Display/Harvest Time:

Fall

Fruit Type:

Samara

Fruit Length:

1-3 inches
Flowers:

Flower Color:

Gold/Yellow

Green

Flower Inflorescence:

Umbel

Flower Bloom Time:

Spring

Flower Description:

Greenish yellow flowers appear in April-May in upright clusters (umbels).
Leaves:

Woody Plant Leaf Characteristics:

Deciduous

Leaf Color:

Gold/Yellow

Green

Orange

Deciduous Leaf Fall Color:

Gold/Yellow

Red/Burgundy

Leaf Type:

Simple

Leaf Arrangement:

Opposite

Leaf Margin:

Lobed

Hairs Present:

No

Leaf Length:

3-6 inches

Leaf Description:

3 to 6 in. opposite, simple leaves with 5 to 7 short triangular lobes; new leaves are bronze; bright green in summer and resistant to sunburn; bright gold with crimson fall color
Stem:

Stem Is Aromatic:

No
Landscape:

Landscape Location:

Patio

Small Space

Landscape Theme:

Asian Garden

Nighttime Garden

Pollinator Garden

Design Feature:

Accent

Small Tree

Specimen

Attracts:

Moths

Pollinators