Other Common Name(s):
Description

Copper beech 'Purpurea' is a large deciduous tree in the Fagaceae (beech) family and is native to Europe. This tree can grow 60-80 feet tall and 40-60 feet wide with a rounded to pyramidal crown. The leaves start out in spring purple but become green in the summer. Fall color is yellow to copper. The fall nuts are edibles by humans and wildlife.

Purple Beach does best planted in fertile well-drained moist soil in full sun to part shade. It doesn't tolerate wet soils. Use this tree as a specimen or shade tree. They do not like to be transplanted or crowded so give it plenty of room. The branches tend to grow tangled and cross each other so some pruning is helpful.

Insects, Diseases, and Other Plant Problems: No major problems but planted in a too wet environment they are prone to fungal diseases. Watch for aphids and powdery mildew and leaf spot.

VIDEO created by Ryan Contreras for "Landscape Plant Materials I: Deciduous Hardwoods and Conifers or Landscape Plant Materials II: Spring Flowering Trees and Shrubs" a plant identification course offered by the Department of Horticulture at Oregon State University

Profile Video:

See this plant in the following landscape:
Cultivars / Varieties:

Tags: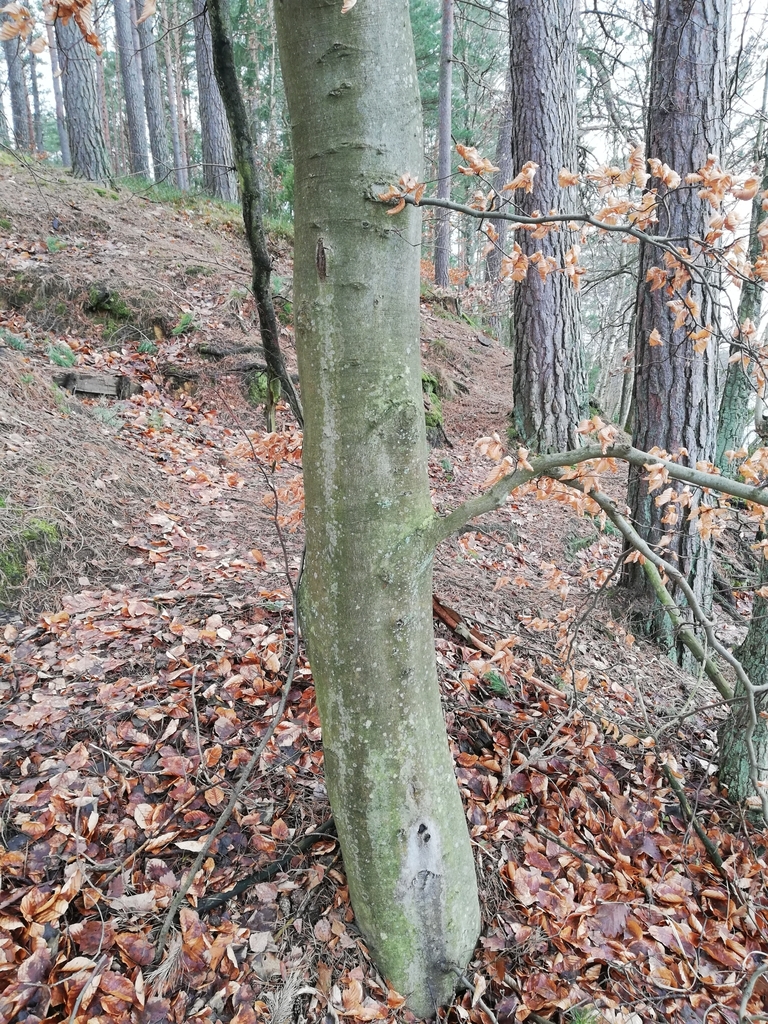 Cultivars / Varieties:

Tags:
Attributes:

Genus:

Fagus

Species:

sylvatica

Family:

Fagaceae

Life Cycle:

Woody

Recommended Propagation Strategy:

Seed

Country Or Region Of Origin:

Europe

Wildlife Value:

Mammals and birds eat the fruits

Play Value:

Wildlife Cover/Habitat

Wildlife Food Source

Edibility:

Nuts are edible

Dimensions:

Height: 60 ft. 0 in. - 80 ft. 0 in.

Width: 40 ft. 0 in. - 56 ft. 0 in.
Whole Plant Traits:

Plant Type:

Tree

Woody Plant Leaf Characteristics:

Deciduous

Habit/Form:

Pyramidal

Rounded

Growth Rate:

Medium

Maintenance:

Medium

Texture:

Medium
Cultural Conditions:

Light:

Full sun (6 or more hours of direct sunlight a day)

Partial Shade (Direct sunlight only part of the day, 2-6 hours)

Soil Texture:

High Organic Matter

Loam (Silt)

Soil pH:

Acid (<6.0)

Neutral (6.0-8.0)

Soil Drainage:

Good Drainage

Moist

Available Space To Plant:

24-60 feet

more than 60 feet

NC Region:

Mountains

Piedmont

USDA Plant Hardiness Zone:

4a, 4b, 5a, 5b, 6a, 6b, 7a, 7b
Fruit:

Fruit Color:

Brown/Copper

Fruit Value To Gardener:

Edible

Display/Harvest Time:

Fall

Fruit Type:

Nut

Fruit Description:

Fruits are triangular nuts with spiny coverings
Flowers:

Flower Color:

Gold/Yellow

Flower Inflorescence:

Catkin

Insignificant

Flower Bloom Time:

Spring

Flower Size:

< 1 inch

Flower Description:

Small catkins in the spring
Leaves:

Woody Plant Leaf Characteristics:

Deciduous

Leaf Color:

Green

Purple/Lavender

Leaf Value To Gardener:

Showy

Deciduous Leaf Fall Color:

Gold/Yellow

Leaf Type:

Simple

Leaf Arrangement:

Alternate

Leaf Shape:

Elliptical

Ovate

Leaf Margin:

Crenate

Entire

Undulate

Hairs Present:

No

Leaf Length:

3-6 inches

Leaf Width:

1-3 inches

Leaf Description:

2- 4 inch long leaves are purple in the spring and turn green as the season progresses. In fall they are copperish. They are ovate to elliptical in shape with entire to create to undulate margins and parallel veins. Trees tend to hold onto their leaves through winter.
Bark:

Bark Color:

Light Gray

Bark Description:

Smooth thin grey bark that can be easily damaged.
Stem:

Stem Color:

Brown/Copper

Gray/Silver

Stem Is Aromatic:

No

Stem Surface:

Smooth (glabrous)

Stem Description:

Smooth gray to brown stems
Landscape:

Landscape Location:

Lawn

Woodland

Landscape Theme:

Edible Garden

Design Feature:

Shade Tree

Specimen

Street Tree

Attracts:

Small Mammals